Oru Vezham is a beautiful song that captures the essence of the movie Nitham Oru Vaanam, a romantic drama about two lovers who face many challenges in their relationship. Krithika Nelson, who collaborated with Gopi Sundar to write the lyrics and create the music for the song, sings it. The song features the lead actors, Ashok Selvan and Ritu Varma, who share a sizzling chemistry on screen.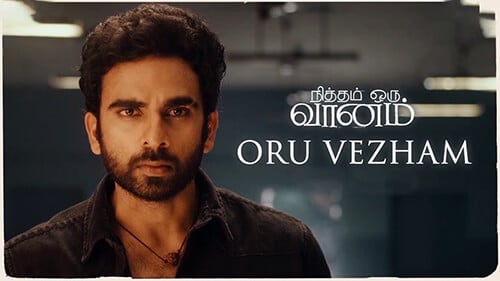 The lyrics of 'Oru Vezham' with their translation, are poetic and metaphorical, using the imagery of an elephant, a snake, and a screw-pine flower to depict the conflict and harmony between the lovers. The song also questions the nature of fate and destiny, whether it is a final act, a never-ending war, or just passing good luck. The song conveys the emotions of love, fear, hope, and uncertainty that the characters experience in their journey.
Krithika Nelson, the singer, delivers a soulful performance, with her voice expressing the nuances of the lyrics. The music by Gopi Sundar is soothing and melodic, blending well with the singer's voice and the song's mood. The director, Ra Karthik, has done a commendable job creating a visually appealing music video with stunning cinematography by Vidhu Ayyana. The actors Ashok Selvan and Ritu Varma also impress with their acting skills and expressions, making the song more engaging and relatable.
NITHAM ORU VAANAM MOVIE | ORU VEZHAM SONG LYRICS ENGLISH MEANING
Oru Vezham Nagam Ondrai Veeltha Parkaiyil
An elephant tries to kill a snake…
Oru Thalam Poothaduthu Marundhatham Sagi
A screw-pine flower protects the snake, scaring the elephant, my friend!
Andha Vezham Nokida, Ingu Thalai Nokida
The elephant glares, the flower stands its ground…
Oru Mona Kaviyam Pirakka
An epic unveils itself quietly!
Idhu Andhi Bagama, Yuga Neela Ganama,
Is this the final act? Is it a never-ending war?
Nodi Nera Yogama Sagi
Or is it just passing good luck, my friend?

ORU VEZHAM MUSIC VIDEO
Oru Vezham is a song that will touch your heart and make you feel the love and pain of the characters. It is a song that will stay with you long after you listen. It is one of the best songs from the movie Nitham Oru Vaanam, which is a must-watch for all romance lovers.
ORU VEZHAM SONG DETAILS
Title
Oru Vezham
Movie
Nitham Oru Vaanam
Singer(s)
Krithika Nelson
Lyrics Writer(s)
Krithika Nelson
Music Composer(s)
Gopi Sundar
Actor(s)
Ashok Selvan, Ritu Varma