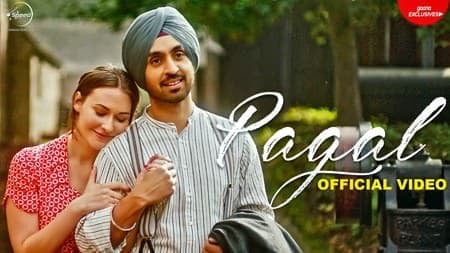 PAGAL LYRICS from the most stylish Singh Diljit Dosanjh is a romantic-sad Punjabi song and it has been musically produced by Gold Boy. Babbu is songwriter of beautiful verses and direction to music film "Pagal" has been given by Navjit Buttar filming Diljit, released by Speed Records.
PAGAL FULL SONG LYRICS
Tut chuki mai, naale tut chuki yaari,
Fer vi hunda ehsaas kayi vaari,
Pataa hundeya ke oh bewafa hai,
Bhulli jeda dhokha khaaya.
Main paagal ne fer ohdi ho jana
Ajj vi je mud aya oh.
(meaning of chorus: crazy me would become his again (fall in love with him), if he comes back to me.)
Oh sohna hai oh changa hai,
Mashoor vi hai badnaam vi hai,
Unjh apne aap ch rehnda
Par mundeyan wich poora naam vi hai.
Mere layi si oh larh painda,
Je tang koi mainu karda si,
Hun pata nahi ohnu ho gaya ki
Odon mainu khon ton darda si.
Bas pata nai ki ae .Babbu wich
Jeda janda nai ae bhulaya.
Mai pagal pher ohdi ho jaana,
Aaj vi je murh aaya oh.
Hun vi main shaam nu jandi nayi
Mundeyan ton door hi rehndi aa,
Koi friend main nawa banaundi nai
Hun vi main parhdi rehndi aa,
Hun vi main vaal rangaundi nayi,
Hun vi ohde supnay bun'di haan
Ohday pichay laggi hun vi main
Gurdas .Maan nu sundi haan,
Kam har ik hun vi main kardi haan,
Jeda-jeda ohnay sikhaya oh..
Main pagal ne fer ohdi ho jana, ajj vi je mud aya oh..