PANI DI GAL Lyric is a different Punjabi anthem by Maninder Buttar. MixSingh well-sorted the music for PANI DI GAL. The lyrics writer Maninder Buttar drafted the satisfactory lyrics of the Punjabi song. Robby Singh directed the music video of 'PANI DI GAL' AKA 'SADI TERE NAAL RAWANGI' released on April 1, 2021.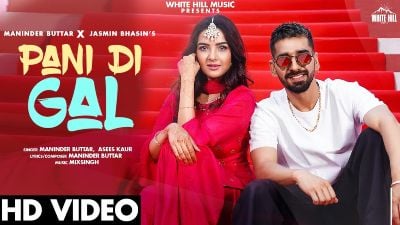 PANI DI GAL Punjabi SONG LYRICS • Maninder Buttar
Paani Di Ki Gal Karde,
Thanu Coke Pila Dange,
Jatt Nal Dil La Lavo,
Thanu Italy Ghuma Dange,
Shadi Tere Na Karawangi,
Jhadu Posha Tussi La Leo,
Cha Ape Main Banavangi,
Tara Dil Diyan Touch Karde,
Thode Te Na Sada Koyi Na,
Dasso Kehdi Galon Shaq Karde,
Tere Kisse Ve Kamal Hunde,
Hor Dasso Ki Boliye,
Thodi Shirta De Wal Hunde,
Mere Te Yakeen Tu Karle,
Shehar Di Kudiye Ni,
Meethi Meethi Mainu Lagdi,
Zehar Di Pudiye Ni,
Pishe Pishe Mere Ave,
Dass Ki Chohna A,
Ve Tu Munea Chandi Di,
Shak Nu Sona A,
Tussi Ehna Sada Naiyo Karde,
Assi Jina Thanu Chayi Jane A
Thode Nal Ghum Ghum Ke,
Thanu Nazron Bachai Jane A
Ve Tu Kudiya Te Gane Gaunde,
Kade Sade Lai Ve Ga Sohnea,
Phone Sada Chakda E Nai,
Kade Milne Te A Sohnea,
Gadi Vadi Ji Le Avange,
Band Baje Nal Sohneo,
Thanu Viah Ke Le Javange,
Gadi Koyi Vi Arrange Kareo,
Kudiya De Phone Aunde Ne,
Pehla Phone Number Change Kareo,
Teri Mumy Nu Mana Lavange,
Meri Sasu Ma Mana Lavange,
Mere Dady Nu Manayu Kon Ve,
O Tere Vele Na Viahu Kon Ve,
Tere Dady Nu Mana Lavange,
Mere Dady Nu Manayu Kaun Ve,

Maninder Buttar sings the PANI DI GAL song and it has its lyrics written by Maninder Buttar, music composed by MixSingh.