"Pardes Katenda" is a heartfelt musical journey that encapsulates the poignant emotions of separation, longing, and the indomitable spirit of those who leave their homeland to pursue their dreams. Adnan Dhool, the creative genius behind this soul-stirring melody, weaves a lyrical tapestry that tugs at the heartstrings and resonates with the souls of wanderers.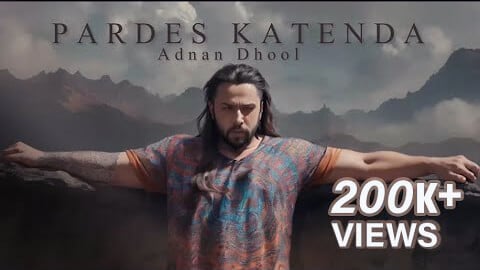 The Pardes Katenda song's lyrics narrate a tale of love and distance, where the protagonist's beloved has been compelled to depart due to circumstances beyond their control. The verses paint a vivid picture of the pain of separation as the protagonist's sweetheart grapples with life in a foreign land, longing for a glimpse of their beloved's face. The evocative words reveal the internal struggles, unexpressed sentiments, and bittersweet moments that mark the journey of those who chase their aspirations far from home.
Adnan Dhool's poignant composition is a testament to his musical prowess. Every note strikes a chord with the heart, resonating with listeners who have experienced the ache of distance. The melody flows seamlessly, echoing the ebb and flow of emotions that surge through the protagonist's heart.
PARDES KATENDA SONG LYRICS ENGLISH MEANING
Sohna Te Methon Door Gaya Ae, Hoke Sajan Majboor Gaya Ae
Powerlessness had driven my dear sweetheart away from me.
Akhiyan De Vaste Khuhsiyan Hovan, Hoke Hijr Wich Choor Gaya Ae
He had broken down in tears and departed to delight our eyes.
Sohna Paya Pardes Katenda, Sajjna Nu Dooron-Dooron Vehnda
The beautiful one has been living hopelessly in a strange land and watches his sweetheart from afar.
Sadi Te Sari Sunda Rahe Par Apni Peed Nai Vehnda
He hears everything I say but never expresses his sentiments.
Sohna Te Suit Bhalenda Ae Par Apni Peed Nai Vehnda
He may be dressed well, yet he ignores his inner troubles.
Akhan De Vaste Bheje Kajjal Na Moyi Doori Vehnda Ae
He sent 'Kajol' from abroad for me, yet he is blind to the gap between us.
Sohna Bhajenda Sanu Kamaiyan, Sohna Manave Eid-An Paraiyan
My beautiful sweetheart works and sends me money. My lovely sweetheart celebrates foreign festivals.
Aja Sohneya Galiyan Sunjhiyan, Sanu Qabool Ve Teri Ladaiyan
Come home, dear; my streets are lonely without you. Even if you argued with me, I would accept it.
Ronde Baddal Meehn Varsainde, Dadha Tainu Yaad Karende
Even the clouds are crying in the form of rain because they miss you so much.
Es Mahine Tu Aavaan'na Roz Apne Dil Nu Dasende
They lie to their hearts when they say you'll return this month.
Sohneya Vatna Nu Mudke Aavan, Do Dihari Mukh Tan Dikhavan
Oh, my lovely darling, please return home and give me a little glimpse of your face.
Roz Takande Raah Teri,
Looking at the roadways, I've been waiting for you.
Pardes Katenda Full Song
As we delve into the translation of "Pardes Katenda," we are transported into a world of raw emotions and unspoken yearnings. The song's meaning becomes vividly apparent, capturing the essence of the expatriate experience and the resilience that accompanies it. Adnan Dhool's poetic prowess shines through, inviting listeners to connect with the song's sentiments on a profound level.
Pardes Katenda Punjabi Music Video | Adnan Dhool
This song is a tribute to the enduring spirit of those who embark on journeys to foreign lands, leaving behind the comfort of home and loved ones. The translation elevates the impact of the lyrics, allowing a broader audience to appreciate the depth of emotion embedded within each verse.
"Pardes Katenda" is a melancholy masterpiece that explores the complexities of love, distance, and the unbreakable bond between individuals and their homeland. Adnan Dhool's passionate performance and soul-stirring lyrics and melody make this song a poignant and relatable exploration of the human experience. Whether you're an expatriate yearning for home or simply a lover of profound musical narratives, "Pardes Katenda" is a melody that will touch your heart and linger in your soul.
SONGS FOR YOU
Ye Dunya — Adnan Dhool, Sherry Khattak, Talha Anjum, Xulfi
Pardes Katenda Song Details
Track
Pardes Katenda
Artist
Adnan Dhool
Lyric Poet
Adnan Dhool
Producer
Adnan Dhool