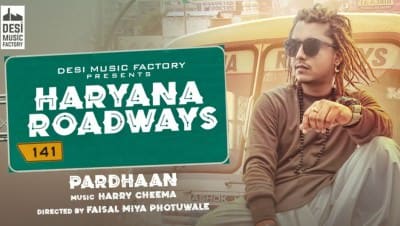 Haryana Roadways is a latest Haryanvi rap song of Pardhaan with its lyrics penned, performed by him. Harry Cheema is music director while Amit Monga mixed & mastered it. Faisal Miya Photuwale is director of track's video.
PARDHAAN NEW HARYANA ROADWAYS SONG LYRICS
Intro,
Aaram Se,
Dhoom Dharaam Se,
Shoda Teer Kamaan Se
Mera Shabd Jaisey
Koyla Nikla Ho Khaan Se,
Khol Kaan Le
Jise Dikkat Ho Mere Kaam Se,
Mere Paiso Se,
Mere Aish-o-araam Se
Mujhe Farak Nahi Padta
Tu Kya Bolta Hai,
Sochta Hai Mere Baare Mein
Tu Kya Bhonkta Hai
Shakal Na Soorat Main Moorakh
Mujhme Koi Gur Nahi
Kalam Siyahi Hai Mere Pass Sur Nahi,
Saaf Likhai Par
Batein Likhun Bhari Gandh Se
Sare Bure Aib Bachta Hu Ghamand Se.
Kisi Akalmand Se Main
Baitha Ganwar Bhai
Haryana Roadways Mein Tu Sai Sawaar Bhai.
Shora Haryane Ka, Chhora Haryane Ka
Bhai Dekh Mera Tora, Tora….
Ib To Goliyan Chaalegi,
Dharti Haalegi
Meri Chale Jis Tariyo Chale MLA Ki
Back Meri Khatam Hon Ka Na Naam Le
Bach ke Rahiyo Shoreyan Te Mere Gaam Ke
Poori Ae Jaan Pehchaan
Poora Sai Bhai-chara
Bohemia Rapstar Bada Bhai Sai Maahra
Tha Denge Dhumme,
Latth Denge Gaad
Jahaan Te Kaada
Wahi Denge Taney Baarh.
Ghani Bakwas Na Kar Paachhe Na Hat Ja
Kon Sa Bade Badmash Hu Main Khatak Ja,
Ban Na Shaana Thok Dunga Shaati Teri,
Karoon Main Karam Achhe,
Niyat Haraami Meri,
Duniya Ke Sochegi Diya Kade Gaur Ni
Aade Sare Pardhaan Mantri Ki Lod Ni
Kisi Ka Dil Dukhan Ka Mera Irada Koi Ni
Seedha Marunga Jaan Te Bolunga Zyada Koi Ni,
Shora Haryane Ka,
Haryane Ka Shora,
Shora Haryane Ka, Shora Haryane Ka
Bhai Dekh Mera Tora, Tora…
Mujhey Follow Kare
Tere Sare Star Bhai,
Trolley Taley De Dunga
Main Teri Car Bhai,
Pyar Te Reh
Fir Milega Satkaar Bhai,
Haryana Roadways Mein Tu Sai Savaar Bhai.
Haryana Roadways
Haryana Roadways Mein Tu Sae Sawar Bhai
Haryana Roadways.