Parimitha Neram, with the translation of its mesmerizing lyrics, is a Malayalam song that captures the essence of love and romance. The song is sung by Aavani Malhar and Pradeep Kumar, who have lent their magical voices to the soulful lyrics written by Sharfu. The lyrics describe the feelings of two lovers drawn to each other by a spark in their eyes. They explore their love and intimacy in their limited time and wish to remain the same forever.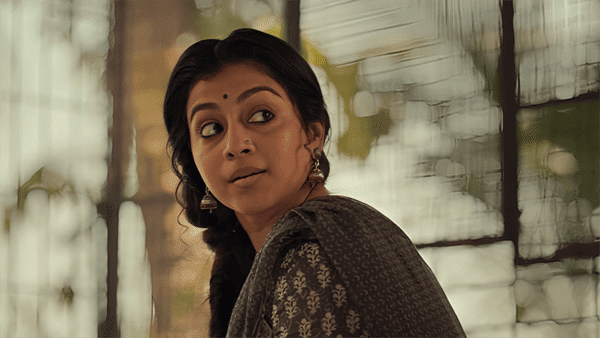 The music, composed by Govind Vasantha, is enchanting and harmonious, creating a soothing atmosphere for the listeners. The video, directed by Ahammed Khabeer, is also very impressive, featuring the talented Joju George and Nikhila Vimal as the lead actors. They have done a splendid job portraying the song's emotions on screen with their expressive eyes and gestures. The video also has some beautiful shots of nature and scenery, adding to the aesthetic appeal of the song.
MADHURAM MALAYALAM MOVIE · PARIMITHA NERAM SONG LYRICS ENGLISH MEANING
Nee Cheru Thee Karuthi Mizhiyoram
You held a tiny flame at the edge of your eye
Njan Uruki Pakuthi Nimi Neram
I melted in half a second
Thee Erivayi Ruchiyayi, Akame Kiniyunnoru Thenayi Thane Thane
You became the spice, taste and the sweetness within me
Nam Karalin Muriyil Palathum Thirayum, Iru Perayi Kane Kane
As we search within the shelves of our hearts, looking at each other
Parimitha Neram Pathiye Parichitharayi
Getting to know each other in this limited time
Anavadhi Nottam Manassin Nerukalil Oori
Several looks enter the chambers of my heart
Parimitha Neram Pathiye Parichitharakam
Let's get to know each other in this limited time
Palayi Maram Kala Kalam
Let's stay the same, forever
Anavadhi Nottam Manassin Nerukalil Oorum
Several looks enter the chambers of my heart
Maril Nirayum Paravaram
An ocean of emotions fill my heart

Madhuram Film's Parimitha Neram Music Video | Nikhila Vimal | Joju George
Parimitha Neram is a song that will make you feel the warmth and joy of love. It is a must-watch for anyone who loves romantic songs with poetic lyrics and melodic music. It is one of the best songs from the movie Madhuram, which is a romantic comedy that you should not miss.