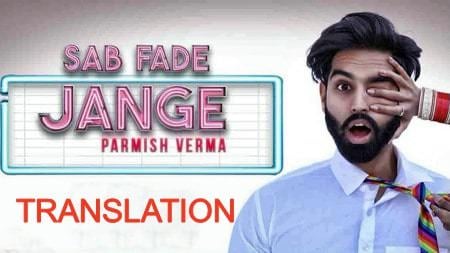 SAB FADE JANGE LYRICS (with Translation in English) – Many have been looking for Parmish Verma's new songlines meaning. The stanza of Punjabi tune with their possibly closest meaning is shared on this page.
PARMISH VERMA | SAB FADE JANGE SONG TRANSLATION
Oh satte, tumbi, tumbi, thodi ji tumbi paa de,
Haan, ah ban gi gall, chall fer, hoye-hoye.
Desi crew, desi crew!
Ho kayi yaar beli hunde baale ne azeez,
Some of my friends are dearest,
Bina dasse lai jande mangwi oh cheez,
And sometimes they borrow my stuff without even letting me know,
Bhullde purse ghare jede bele aaye ton,
And the ones who forget their wallet at house even they were busy in nothing,
Phone ne milaunde jede agge naake laaye ton,
The ones then call me seeing a traffic-police roadblock.
D.C aa ji mama sada challan naiyo bhare jaan ge,
Later they tell police that their uncle is deputy commissioner, so the formaliy of charging me with summon is not necessary.
Ho tension na lao veere, ah sab fade jaan ge,
Do not worry brother, they surely will be caught.
Haan sab fade jaan ge, ji sare fade jaan ge,
Sab fade jaan ge ji sab fade jaan ge.
Yes, all who are guilty will be caught, every last one of them will be caught.
Fikar na karo veere sab fade jaan ge,
Nothing to worry brother, everybody will be caught.
Ho tera jaanu tera kehke ban'de sharee saale,
The ones who tell their girlfriends that I'm only yours dear,
Milan ton pehlan chat' an karde delete,
And before meeting her delete the phone chats,
Oh eh taan just friend aa meri.
Oh! She is just a friend of mine.
Jhooth bol jande thailand de trip te,
Don't tell the truth and go to thailand for a trip,
Viyah karwa ke jede tikde na ik te,
And the ones who are married but still not satisfied with their love..
Ik din saareyan de, pakke karhe kasse jaan ge,
One day, all of them will be brought to justince.

Ho tension na lao veeray!
Aa sab farhe jaan ge, jee saarey farhe jaan ge,
Sab farhe jaan ge, ji sab farhe jaan ge.
Fikar na karo veeray sab farhe jaan ge!
Ho kayi college di fees wichon ghare kundi launde ne,
Some tamper money from their college fees,
Kudiyan de naa' te fake ID' an banaunde ne,
And make fake IDs with girls profiles,
Oye tuhi aan na, Angel Priya!
Hey, you're the one right? the Angel Priya?
Oh saplee kadaa de koi banda rehnde bhaalde,
The person who can help them to pass the failed subject, they keep searching,
Tuition di thaan te time saheli piche gaal de,
Instead of tuition classes, they waste their time over their girlfriends.
Ho pai gayi jadon raid veere, bapu kolon fade jaan ge.
And sometime when their father would suddenly raid or check and finds out the truth, they will be caught.
Haan sab fadey jaan ge, ji sare fadey jaan gey,
Sab fadey jaan gey ji sab fadey jaan gey
Fikar na karo veere sab fadey jaan gey.
Ho kayi phone laake kehnde recharge karayin veere,
Some call me and ask for topping up their mobile number,
Main ni peenda na-na mera peg na tu payin veere,
While I reply, I don't drink bro, next time you don't pour for me,
Na veere main ni peena, mera veer ban ke,
No brother, I don't drink at all.
Office ch kam karde ne din raat,
It seems they work really hard in office,
Asal ch baithe hunde pub ch janab,
But in reality they are chilling in night pubs,
Lag je na pata kite, saajre je ghare jaan ge,
And to hide it from their family, early morning they go back home.
Ho tension na lao veeray! Aa sab farhe jaan ge!
Nothing to worry bro, these all will be caught someday.
Sab farhe jaan ge, ji sab farhe jaan ge.
Every blameworthy will be caught.
Gall sun satte koi chak la tu beat,
Bro Satte, just pick a beat,
Ho pichle kise gaane cho chak la yaar,dhol aali
You could take it from any old song, a dhol beat would be good.
Goldy gawa la gaana wajjna repeat,
Goldy record my song, this is gonna be played on repeat, man.
Sarbeya maana chhed dilan di koi taar,
Brother Sarba Maan (songwriter), strike some chord of heart in your song,
Taur naal chhade din zindagi de chaar,
We all are bachelors and we proudly live the days of our lives.
Auto-tuner hai aarhi sada, gaane haale bade aaun ge.
Auto-tuner is my best friend and a lot more songs are on your way.
Hoye, sab fade jaan ge ji sare fade jan ge,
Sab fade jan ge ji sab fade jange,
(fikar naa karo veeray sab fade jaan ge. )