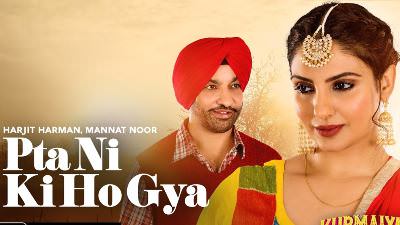 Singesr: Harjit Harman Ft. Mannat Noor
Album: Pata Ni Ki Ho Gya (Kurmaiyan)
Music Director: Gurmeet Singh
Lyrics Writer: Bachan Bedil
Label: Lokdhun Punjabi
Pata Ni Ki Ho Gaya Lyrics (also spelled as Pta ni ki ho gya song) featuring Japji Khaira is a new song from Punjabi movie Kurmaiyan and the duet song has been performed by Harjit Harman with Mannat Noor.
PATA NI KI HO GAYA SONG LYRICS
Hauli-hauli hunda-hunda pata nai ki ho gaya -x2,
Hona ki si dil tere -x2,
Naina wich kho gaya,
Haye holi-holi hunda hunda
Pata nai ko ho gaya -x2.
Jadon de tu nain
Mere naina ch daboye ne
Injh lagda ae jaani mele lagge hoye ne -x2,
Injh laggi janda jiwe
Samaa hi khalo gaya,
Haaye hauli hauli
Hunda hunda pata nai ko gaya -x2.
Haan appan nu jo hoya
Ohnu jag kehnda sara ni
Pappe nu sihari fir aarhe kanan raara ni,
Pata ni main ta kadon tu
Chunni ch lako gaya,
Tere naina vich haye ni
Dil sada kho gaya,
Holi-holi hunda hunda
Pata ni ko ho gaya -x2.