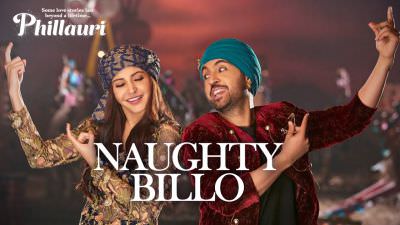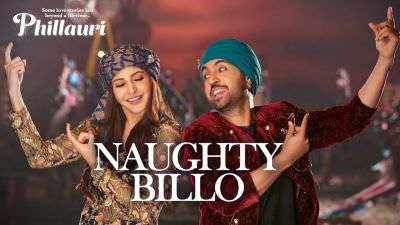 Naughty Billo Lyrics is a peppy track from Phillauri film.  Anushka Sharma, Diljit Dosanjh have sung this song as well as they acted in the video. Shashwat Sachdev directed music for tune while the lyrics of "NAUGHTY BILLO" has been crafted by Anvita Dutt. The ox Star Studios and Clean Slate Films produced picture "Phillauri" is releasing worldwide on 24th of March, 2017.

PHILLAURI's NAUGHTY BILLO  SONG WITH LYRICS ANUSHKA & DILJIT
Mal-mal wala kurta rang firozi tha
Us par kaatil ik button tha chandi ka,
Tu rehn de bas!
Do naino ka woh hamla
Phas gaya bhola jatt yamla
Marta kya na karta,
Haa chal choothi.
Naughty-naughty billo main jhooth boleya
Koi na ji koi na,
Naughty-naughty billo kal raat akeli soyi na
Ji soyi na -x2.
Uske kandhe pe jo til hai
Woh to chitka mera dil hai
Wo baazi khel gayi, loot gayi
Maar gayi marjani.
Haan ji haan raat andhere
Aa gaya tha paas woh mere
Oh ho kaisa teer chala
Maar gaya aankhein surme wali.
O khasmha nu kha mar ja gud kha
Oye bas kar karma waliye,
Kuch na main boli thi
Main bhi toh bholi thi
Haye kya karti.
Let's go! naughty naughty bilo main jhoot boleya
Koi na ji koi na
Naughty naughty billo
Kal raat akeli soyi na.
Bajake danka… Punjabi nachda.
Aa aja phir se dohra zara
Phire pind ke aage ban da gabru bada
Ja tere jaise dekhe bade
Main hoon ik laakhon mein sabse pare.
Main hi ban jaungi pehchan teri
Zara kadar tu kar nadaan meri
Tu hai ser toh main sawa ser
Ye samjha doon
Na rehna tu dhokhe mein yun..
Ja dur fitte muh.
Notty notty billo main jhooth boleya
Koyi na ji koyi na,
Notty notty billo kal raat akeli soyi na
Ji soyi na -x2.