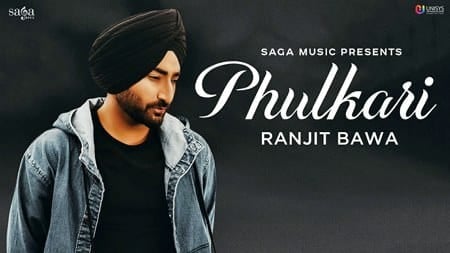 Phulkari Lyrics – Another romantic release of the month with remarkable vocals of Ranjit Bawa is here. Preet Judge is songwriter of promising verses and Gold E Gill has composed music. Frame Singh has directed MV and Saga Music releases it.
The most recently released song of Ranjit Bawa is titled as "PHULKARI" and below you can also watch HD music video.
PHULKARI FULL SONG LYRICS
Pooray joban te thand si mahina si ve poh da,
Turke aa jandi si main painda kayi koh da,
Tere kalje vi khich jehi paunde aa ke nayi
Time katheya jo keemti bitaye,
Teri diti fulkari di main mar laan bukkal
Jado soneya yaad teri aaye.
Kami mehsoos meri hundi aa ke nai
Das dil naa' salaah karke,
Hun vi koi hak jeya jataundi aa ke nai
Bina gallon larh-larh ke,
Hun kaun maardi aa rohb tere te,
Lakk utte hath dhar ke,
Adhi-adhi raat nu satawe das kaun
Mere wangu phone kar-karke.
Niyaneya de wangu jid karde nu tainu
Keda gal laake samjhaye,
Teri diti phulkari di main marla bukal
Jadon sohneya yaad teri aye.
Ajj vi zikar tera hunda lazmi
Jadon vi saheliyan ch behni aa
Tere birthday te khud cake cut ke,
Khud nu hi wish kar laini aa,
Milde si jede ve classroom ch
Ohnu chete kar ro paini aa,
Ho sakda te zindagi c haja mud ke,
Vasta jeya paake tainu kehni aa,
Ajj vi repeat utte gaane sundi
Tu jede farewell party te gaaye,
Teri diti fulkari di mai maarla bukkal
Jado soneya yaad teri aye.
Tere naal laawan laike viahi na gayi
Aise gall da hi afsos ve,
Ranjitpur theri de preet main
Miss tainu kardi aa baut ve,
Kade-kade dil di tasalli vaaste,
Naam naal lawaan judge got ve,
Rab ne vi nerhe hoke suni na sadi
Kitiyan duavan taan si baut ve,
Bade rakhe main vart tainu paun vaaste
Ve bade pandit'an ton dhaage karwaye,
Teri diti phulkari di main maarla bukal
Jadon sohneya yaad teri aye.