Pindan de Jaye song is a fabulous Punjabi track with cryptic lyrics crooned by Sajjan Adeeb. Gurleen is a vocalistic girl. Ellde Fazilka is the composer of the attractive music from the track. The melodic lyrics of Sajjan Adeeb's latest Pindan De Jaye track are authored by Manwinder Maan.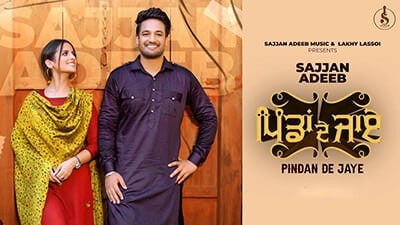 | | |
| --- | --- |
| Song Name: | Pindan de Jaye |
| Singer(s): | Sajjan Adeeb |
| Lyrics Writer(s): | Manwinder Maan |
| Music Director(s): | Ellde Fazilka |
| Music Video Director: | Jeona, Jogi |
SAJJAN ADEEB – PINDAN DE JAYE FULL SONG LYRICS
"Teri Shaant Jeyi Taseer Paani Naaldi, Wagdi Nivana Wal'nu,
Te Main Visre Hoye Geetan Wangu Sun'di, Teri Aakhi Hoyi Gall Nu.
Main Taan Sajjna Khamosh Hoyi Rehni Aan, Ve Lokaan Agge Ghat Boldi Aan
Mainu Ajj Vi Ne Khamb Lag Jande, Je Langhaan Tere Pind Koldi."
Bhakhde De Phulan Warge Pindan De Jaye An,
Kinniyan Hi Jhidiyan Langh Ke Tere Tak Aye An,
English Vich Kehan December Poh Da Hai Jaram Kude,
Narme De Puthan Warge Sau Te Naram Kude,
Alhade Tere Naina De Nal Auna Asi Mech Kude,
Aja Ik Vari Sanu Nehde Ton Dekh Kude,
Aja Ik Vari Sanu Nehde Ton Dekh Kude,
Na Hi Kade Thakke Baliye Na Hi Kade Akke Ne,
Bankan_Diyan Limitan Warge Adi Par Pakke Ne,
Bankan_Diyan Limitan Wale Adi Par Pakke Ne,
Hoya Jo Hawa Payaji Tadke Tak Mudta Ni,
Ki Ton Hai Ki Ban Janda Taude Vich Gud Da Ni,
Sachi Tu Lagdi Sanu Pani Jo Nehri Ni,
Tere Te Husn A Gaya Haye Nange Pairi Ni,
Sadde Te Chadhi Jawani Chadhda Jive Chet Kude,
Aja Ik Vari Sanu Nehde Ton Dekh Kude,
Aja Ik Vari Sanu Nehde Ton Dekh Kude,
Das Kiddan Samjhegi Ni Pindan_Diyan Batan Nu,
Nalkeyan Da Pani Aithe So Janda Ratan Nu,
Nalkeyan Da Pani Aithe So Janda Ratan Nu,
Khuli Hoyi Pustak Warge Rakhde Na Raj Kude,
Tapp Jandi Kothe Sadde Haseyan_Di Awaz Kude,
Gal Tainu Hor Zaroori Dasde An Pinda_Di,
Sadde Aithe Tour Hundi Ae Thakkan Vich Rinda_Di,
Gora Rang Hath Jo Kirju Kirdi Jive Ret Kude,
Aja Ik Vari Sanu Nehde Ton Dekh Kude,
Aja Ik Vari Sanu Nehde Ton Dekh Kude,
Teyon Teyon Hai Guhda Hunda Dhaldi Jo Sham Kude,
Saras_Diyan Khamba Utte Haye Tera Nam Kude,
Sohne Tere Hathan Warge Chadhde_Din Sare Ve,
Ishqe De Asal Kamai Sajna De Lare Ne,
Ishqe De Asal Kamai Sajna De Lare Ne,
Das Dan Gal Sach Sohniye Hasa Na Jani Ni,
Oh Jehde Khade Sarkade Sare Mere Hani Ni,
Patthar Te Leekan Hunde Mitde Na Lekh Kude,
Aja Ik Vari Sanu Nehde Ton Dekh Kude,
Aja Ik Vari Sanu Nehde Ton Dekh Kude,

Pindan de Jaye Music Video