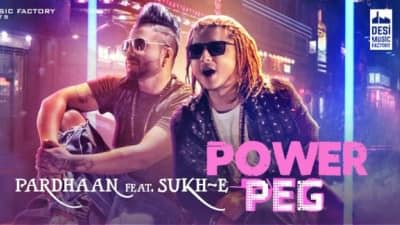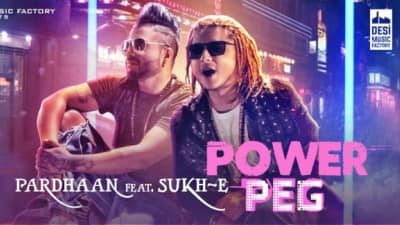 Power Peg Lyrics from Sukh-E and Pardhaan – This rap song has finally released under the music company of Desi Music Factory. The rap lyric are penned by Pardhaan while music is produced by Sukh E.
PARDHAAN's NEW POWER PEG SONG LYRICS – SUKH E
Pa Hor Peg, Power Peg Ho -x2,
Paa Hor Peg Peg, Pa Hor Peg Power Peg -x4,
Macallan Shod Bhai McDowell's Chaalan De
Kuch Na Hota Mota Peg Ghaalan De
Manne Haalan De Gir-Gir Ke Chaalan De
Pankhe Ne Band Kar Joint Juyint Baalan De
Baalan De Bhai Re.
Power Peg Dekhe Teri Baat Kyun Thaata Tu
Bera Na Paatega
Hindi Mein Samjhata Hoon
Main Toh Khata Hoon
Roti Saath Daru Ke
Daru Ke Swimming Pool Mein
Main Nahata Hoon,
Main Bithata Hoon Apne
Iss Pe Duniya Ko
Kewal Sundar Ladki Ko Main Chadhata Hu
Gaadi Meri Mein Jaise Khula Daru Bar
Lagi F1 Race Aise Main Daudata Hu.
Pa Hor Peg Peg Pa Hor Peg Power Peg -x4.
Bhai Main Bhand Hoon
Bana Dev Anand Hoon,
phirun Dolta Paane
Aya Yahan Gand Hoon,
Ankhein Meri Band Yun
Abhi Utha So Ke Jaise
Jo Saala Jada Bole Usay Wahin Dand Doon,
Arey Nahi Akalmand Hoon
Gyaan Baatun Pee Ke Main
Aisa Nahi Ho Sakta
Na Maarun Cheekhein Main,
Kya Karun Jee Ke Main
Daru Pee Ke Marunga,
Bhai Bharega Bill
Maje Karo Free Ke Hain.
Jitne Tareeke Hain Saare Try Karunga
Bhai Tu Crush Kar Main Joint Bharunga
Sky Chadunga Niche Nahi Aana Mujhe
Lada Nahi Kaafi Din Se Aaj Ladunga.
Paa Hor Peg Peg Pa Hor Peg Power Peg -x4.
Pa Hor Peg Power Peg Ho -x4,
Power Peg Ho -x4.