Prema O Prema Lyrics from the Telugu version of Suriya's 'NGK' movie with English translation is out now. Sid Sriram is an artist, who hummed the Telugu verses alongside Hemambiga. Chandrabose is the lyricist and Yuvan Shankar Raja has composed the music for Prema O Prema track. Learn the meaning of its stanzas.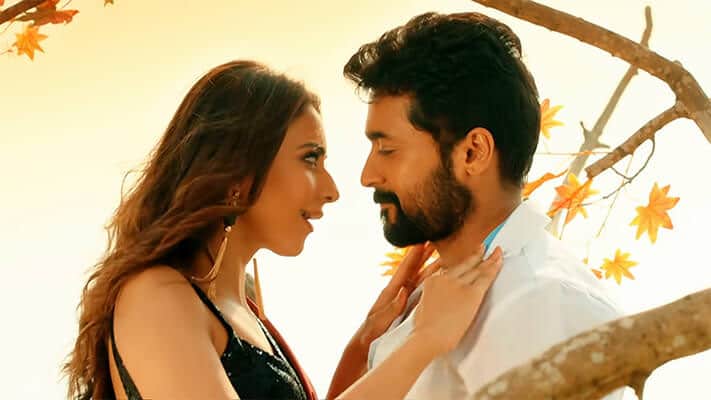 SURIYA | PREMA O PREMA TELUGU SONG LYRICS ENGLISH MEANING | NGK
Prema! Prema! O prema! O prema!
My love, My love. Hey love, Hey love.
Prema Sudigalai Nuvve Unte Chirugalai Cherana
Nishi Laga Nuvve Unte Ninnu Needai Thakana
Nadhi Laga Nuvve Unte Chinukai Ney Chindhana
My love, if you are like a whirlwind, can I come close to you like a soft breeze?
If you are like a bright morning, can I touch you and be your shadow?
If you are like a river, shall I sprinkle like a droplet?
Adiga Badhuladiga Nee Adugai Nadiche
Margam Choopuma Choopuma
Pilicha Ninnu Pilicha Nee Kalalo Niliche
Manthram Cheppuma Cheppuma
Asking you for you to answer, to show me the way to follow your footsteps. Show me.
I called you to tell me the secret, to live in your dreams. Show me.
Priya Megham Kurise Vela Pudamentha Andhamo
Maru Malli Mandharala Chelimentha Andhamo
Your feet look so beautiful when lovely cloud showers the rain.
The bond between jasmine and hibiscus is so beautiful.
Egase Alalegase Nee Premalo Andham
Yedhane Lagene Lagene
The beauty of your love, like a boisterous tide, has pulled me towards you. Pulled me.
Na Gundello Ninde Moham Swasallo Dhoopam Vese
Chuttoora Pogalai Kammene Guttantha Thelipene
The passion of my heart is incensing my breath,
and covering like smoke in the surrounding and revealing the secret.
Thalapunu Vadhalani Yochana Perigenu Manasuna Yathana
Prayamu Chese Prarthana Paruguna Vache Mohana
Though, that's not going out of my mind, is elevating the pain of my heart
Prayer at my age is running with a passion.
Oh Chaitra Masana Meghame Chindhenu Varsham
Koonanallona Mogadha Bhoopala Ragam
Hey cloud of the spring season, showered the rain.
In the far-flung corners, (bhoopala ragam)
Prema O Prema, Mana Needala Rangulu
Nede Kalisene Kalisene
Chelime Mana Chelime Oka Anuvai Perigi
Akhilam Ainadhe Ainadhe
My love! My love!
The colours of our shadow today have become one.
Our bond has grown into a cell and has become unique.
Anuragam Padalante Mounam Sangeethame
Anubhandham Choopalante Saripodhe Janmame
If affection has to sing, silence is the music.
If I have to show intimacy, a lifetime is not enough.

NGK Telugu | Prema O Prema Music Video
Prema O Prema Song Details
| | |
| --- | --- |
| Title of Song: | Prema O Premaa (Telugu) |
| Movie Title: | NGK Telugu |
| Vocalist(s): | Sid Sriram, Hemambiga |
| Songwriter(s): | Chandrabose |
| Music Director(s): | Yuvan Shankar Raja |
| Film Director(s): | Sri Raghava |
| Actors: | Suriya, Sai Pallavi, Rakul Preet Singh |