Punjab 2016 Lyrics is title of an inspirational song which is versed on realistic events.The track is proudly performed by Gursewak Dhillon who is lyricist of the it as well.Music beats of the ballad hails from Sharp A while inspiring video is directed by Sukh Sanghera, Hair Sroya.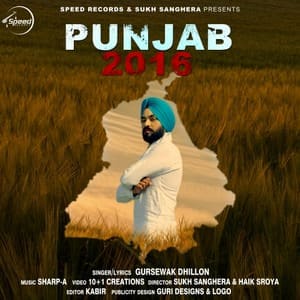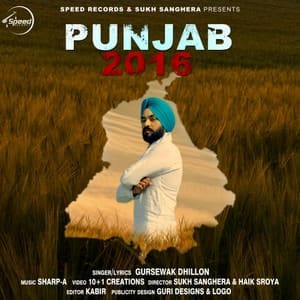 Song Name: Punjab 2016
Artist: Gursewak Dhillon
Music Composer: Sharp A
Director: Sukh Sanghera & Hair Sroya
Video: 10+1 Creations
Label: Speed Records
Punjab 2016 Full Song Lyrics Gursewak Dhillon, Sukh Sanghera
Hun Bande Bahadur na
Ethe amli jamman yaara,
Hun tera mera ni
Mera mera tul da saara.
Mayi Bhaago wangu na
Mayi Bhaago wangu na
Jung wich zor dikhawan kudiyan,
Sago fashion show-an 'ch
Jaake lakk matkawan kudiyan (x2).
Sarbans Daniya ve
kha layi kaum goreyan teri
Tere putt Canada 'ch
Toran cup-an de wich beri.
Hun sir de kesaan layi
Hun sir de kesaan layi
Naiyo khopar Singh lahaande.
Ajj putt sardaran de
Vech ke vaal khillan ne khaande.
Kake sardaran de
Vech ke vaal khillan ne khaande.
Kha le cut mashrooam ne
Sohne gabru cheere wale
Sab vech zameena nu
Munde bahar jaan nu kahle.
Fad aadtiyan kolo
Fad aadtiyan kolo
Agent-an nu cash fadaunde,
Khetan wich jattan de
Bhaiye aishan firan udaunde (x2).
Maape mobile-an te
Facebook, WhatsApp te rehnde
Bache wich club-an de
Goreyan de nal sip-sip lainde.
Asi copy karde aan
Asi copy karde aan
Vekhi ik din Dhillon rona.
Na Punjabi rehna oye
Sathon gore ban nai hona (x3).