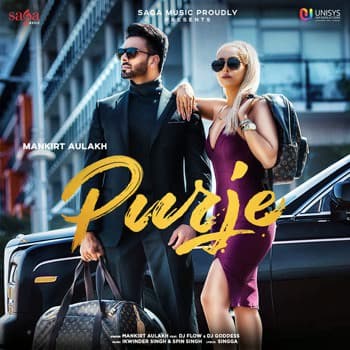 PURJE LYRICS from Punjabi songsters DJ Flow and Mankirt Aulakh is a just released song. DJ Goddess is featured in music video created by Sukh Sanghera. Ikwinder Singh & Spin Singh are composers of music.
Singga pens the entertaining lyrics to "Purje" song of Mankirt, released by Saga Music and produced by Sumeet Singh.
PURJE FULL SONG LYRICS – MANKIRT AULAKH
Chadi ae jawani jinu pehle pehar di,
Gall karda awaaz jiwe hundi fire di (x2),
Jede soniye brand hunde aa,
Oh kade vi na aam milde,
O kade vi na aam mildey,
Vekhi akh na milaaji baliye, munda purje hilaadu dil de (x2).
Meaning of song chorus: Hey girl, try not to make eye contact with him. His charming looks might strike your heart.
Tera singge naal vair naiyo
Hawa naal vair aa,
Mitti ch milaa du jeda pathran da shehar aa (x2),
Banda karke fry Chandigarh da,
Mahalpur wich yaar firde,
Wekhi akh na mila ji balliye,
Munda purje halaa du dil de (x2).
Oh kaawan diyan daaran agge fukri ni rod da,
Munda aa barood lod pain ute bolde,
O duniya de utte unjh ghat hi bande ne,
Jina wich aunda tera yaar baliye.
Haan maarke horn munda bane na jawak,
Sidhi uppron langhaunda vekhi car baliye,
Maarke horn munda bane na jawaak,
Sidhi uppron langhaunda vekhi car baliye,
Oh an'khaan naa' tunneya te hobby' an ni paalda,
O khareyan ch aunda munda 21-22 saal da (x2),
Jede double-cross karde,
Yaar kheeray'an de waang chhillde.
Wekhi akh na milaaji baliye, munda purjay halaadu dil de (x3).
Enjoy the Punjabi music video of "Purje Song" which has been newly released in vocals of "MANKIRT AULAKH" and "DJ FLOW" with the Punjabi lyrics followed by "SINGGA."