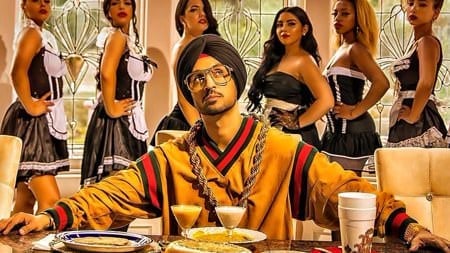 PUTT JATT DA LYRICS from DILJIT DOSANJH – The most popular Punjabi artist has just released his another single track, it's a Bhangra / dance song produced by Archie Muzik named producer. The creativity works are done by Director Suj and Karan Dope.
Kaater is a rapper and his vocals are featured in tune "Putt Jatt Da" with its Punjabi lyrics brought live by Ikka Singh. All rights to track are acquired by Speed Records, Keoni Marcelo is director of Diljit Dsanjh's entertaining music video released recently.
PUTT JATT DA FULL SONG LYRICS
Rock it one that beat-beat!
Ho akhan naal kill kardi, oh ho,
Tu chori billo dil kardi, aye haye,
Oh raahe-raahe jaan waliye, oh ho,
Agg sadkan nu laan waliye, aye haye
Tu jhalla sara gang karta, oh ho,
Ni kalla-kalla hang karta aye haye.
Ho moran jeha tera turna, oh ho,
Barood paya naini surma, aye haye,
Keda kaabu ni husan te paawe, yo,
Dil sinne ton nikalda jaawe, yo,
32 bore billo do nain kaale, yo-yo,
Munde maarde nishane tu tika laye,
O aákhi na tu putt jatt dá, oh ho,
O áakhi naa tu putt játt da, aaye haye,
O aakhi na tu putt jatt da, main vi shaddi na je haan karwa ke,
Aakhi na tu putt jatt da.
Song chorus translation: He is singing proudly to the girl that I am not my father's son if I don't make you say 'yes' to me (make you fall in love with me.)
Rock it one that beat-beat!
Ni kahton heavy kita nakhra, o ho
Oh maarda style wakhra, aye haye
Jadon langhdi aa beh-beh takde, o ho,
Mundeya nu billo tetho khatra, aye haye,
Teri gali di main lawa gediyan, oh ho,
Bass gaddi di le'aundi 'neriyan, aye haye,
Crore'an di main gaddi rakhda, oh ho,
Loki khichde ne photo jidiyan, aye haye.
Ho guddi ambran nu chardi jaawe, yo,
Naam pachiyan pinda ch khoru paawe, yo,
Hath kisay de na bilo munda aawe,
Taur allrhan de seenay agg laawe.
Oh akhi na tu put jatt da, o ho,
Oh akhi na tu putt jatt da, aye haye,
Oh akhi na tu putt jatt da,
Main chaddi je na haan karvaake, akhi na putt jatt da.
Rock it one that beat-beat!
Here is one of the best Punjabi songs ever performed by Diljit Dosajh. The song is titled to be "Putt Jatt Da" and you can listen the full song above.