Ra Ra Sarasaku Ra Ra Song Lyrics + English Translation from Rajinikanth's Tamil movie 'Chandramukhi' are sung by Binny Krishnakumar & Tippu. Bhuvanachandra has inked-down the stanzas for "Raa Raa" track and below is the meaning of songlines.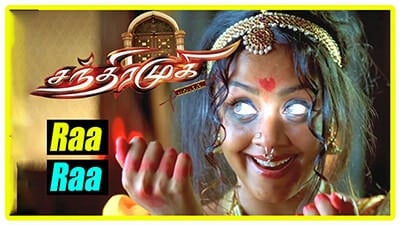 | | |
| --- | --- |
| Song Name: | Raa Raa (Tamil) |
| Album/Movie: | Chandramukhi (2005) |
| Singer(s): | Binny Krishnakumar, Tippu |
| Lyrics Writer(s): | Bhuvanachandra |
| Music Director(s): | Vidyasagar |
| Music Video Features: | Rajinikanth, Jyothika |
CHANDRAMUKHI FILM – RA RA SARASAKU RA RA SONG LYRICS ENGLISH MEANING
Ra Ra Ra Ra, Ra Ra Ra Ra
Ra Ra Sarasakku Ra Ra
Ra Ra Chinthakku Cheera
Come, come.
Come, and delight me.
Come, torment me.
Pranamae Needhi Ra Aelukora Dhora
Swasalo Swasamai Ra Ra
You are my soul, accept me, Lord.
Come as the breath of my breath.
Thom Thom Thom, Thom Thom Thom
Aha Aha Thiranana Thiranana
Aha Aha Thiranana Thirananaaha Aha Aa Aa Aa Aa
Nee Pondu Nae Kouri Abhisari Kai Naenu Vechanu Sumanohara
Aa Kalana Marugaina Ananda Ragalu Vinipincha Nilichanura
I have come like an angel, my love.
Hearing the melody of times, I stood spellbound, come.
Thanana Theemtha Theemtha Theemthana
Thanana Theemtha Theemtha Theemthana
Thanana Theemtha Theemthana Theemthana Theemthana
Vayasu Jala Mopa Ledura Marulugounna Chinna Danni Ra
Tanuvu Badha Teercha Ravera Ravera
Youth and age have endowed me, I am a young girl.
Sala Sala Sala Ragilina Paruvapu
Sodha Idhi Tadi Pudi Tadi Pudi Tapanala Swaramidi
Ra Ra Ra Ra Ra Ra Ra Ra Ra Ra Ra Ra
Come to satisfy my urges This is a hot raging youth.
Come, come.
Rajathi Raja Raja Kambheera Raja Kula Thilagha
Vettaiya Raja Varar Varar Varar
Ae Bandhamo Idhi Ae Bandhamo
Ae Janma Bandhala Suma Gandhamo
What is this bondage?
Is this a previous birth bondage?
Ae Swapnamo Idhi Ae Swapnamo
Nayanala Nadayadu Tuli Swapnamo
Dream? Is it a dream?
Is this dance of angel a dream?
Virahapu Vyadhalanu Vinava Ee Tadabadu Tanuvunu Kanava
Maguvala Manasulu Telisi Nee Valapunu Marachuta Suluva
Listen to my plight due to separation. Are these stumbles your dream?
Those pleasantries in my memory, wiII I forget them easily?
Idhi Kani Vini Eruganu Manasula Kalayika
Sarasaku Pilichiti Virasamu Tagadika
Is this an unseen union of hearts?
flirting doesn't mean obscenity.
Jigi Bigi Jigi Bigi Sogasula Moravini
Mila Mila MagasiriMerupula Meriyaga
Ra Ra Ra Ra Ra Ra
I am a posh maiden. Come oh lighting beau!
Come, come.
Laka Laka Laka Laka
Laka Laka Laka Laka Laka Laka
Tham Tharigida Dheem Tharigida Dhom Tharigida Nam Tharigida
Thatha Tharigida Dhithith Tharigida
Thoam Thoam Tharigida Nam Nam Tharigida
Tha Dhee Dhoam Nam Cham Cham
Tha Dhee Dhoam Nam Cham Cham
Thakita Dhikita Thomkita Namkita
Thaka Thaka Dhina Thaka
Thatha Thalangu Thoam Thatha Thalangu Thoam
Thagadhith Thalangu Thoam
Thalangu Thaka Jam Thadheemtha Naka Jam.

Chandramukhi Tamil Movie | Ra Ra Music Video