Read the Raat Song Lyrics from 'Trance' Malayalam Movie starring Fahadh Faasil & Nazriya Nazimby. Find out the meaning of Raat Lyrics in English Ft. Sneha Khanwalkar & Neha Nair.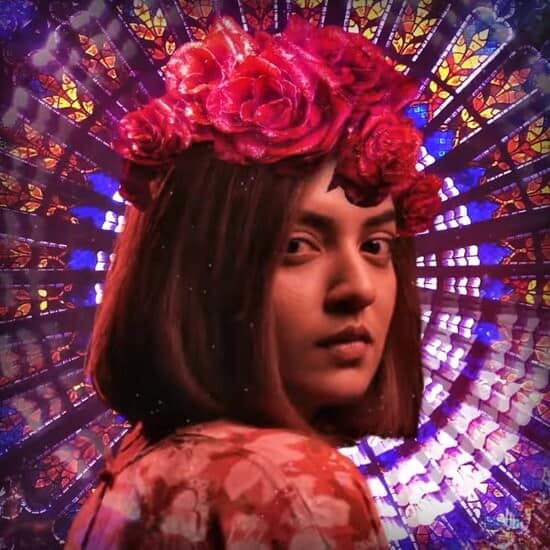 | | |
| --- | --- |
| Song Name: | Raat (Malayalam) |
| Album: | Trance (2020) |
| Singer(s): | Sneha Khanwalkar, Neha Nair |
| Lyrics Writer(s): | Vinayak Sasikumar, Kamal Karthik |
| Music Director(s): | Jackson Vijayan |
| Video Director(s): | Anwar Rasheed |
| Actor(s): | Fahadh Faasil, Nazriya Nazim |
| Record Label: | © 2020 Muzik 247 |
TRANCE MOVIE | RAAT FULL SONG LYRICS | FAHADH| NAZRIYA
Raat Se Bhi Zyada Hai Nasheeli,
She is much intoxicating than the night.
Band Kamron Ki Hai Woh Ankahi,
She is the untold story behind the doors.
Qaid Kar Jaye Sabko Aisa Khwaab Hai Woh,
Her dream is to imprison everyone!
Ishq Sa Ik Zehar Jo Pila Jaye,
She offers a poison which similar to love.
Neelkkannil Neelachuzhiyo,
Neerchundil Mounathirayo
Ararum Azhum Sagaram Ano Nee,
Thapathal Vanathalayum, Suryanmar Ellame,
Nin Anthichoppil Mungimayunno.
Raat is a multilingual track that starts with Hindi verse having the charming voice of Sneha Khanwalkar, followed by provocative Malayalam lyrics hummed by vocalist Neha Nair. Jackson Vijayan is the producer of music, as the lyricists Vinayak Sasikumar & Kamal Karthik come together to ink down the Raat song lyrics.
Trance is an upcoming Indian Malayalam language comedy movie having direction and production both from Anwar Rasheed. The energetic track 'Raat' was released on 24 Jan 2020, by Muzik247 on YouTube, and its lyrical music video introduces the character played by the lead actress Nazriya Nazim.