Rabb Da Radio (TRAILER) Tarsem Jassar | Mandy Takhar | Simi Chahal | Releasing On 31 March 2017
 Movie Full Name: Rabb Da Radio
Director: Tarnvir Singh Jagpal & Harry Bahtti 
Star Cast: Tarsem Jassar,Simmi Chahal, Mandy Takhar,Sardar Sohi,Rupinder Rupi,Seema Kaushal,Harby Sanga & others.
Stroy, Screenplay & Dailoudes Writer(s): Jass Grewal
Singers : Sharry Mann, Ammy Virk, Kulbir Jhinjer, Mankirt Pannu & Tarsem Jassar
Rabb Da Radio Full Movie Release Dates: 31st March, 2017
Producer : Manpreet Johal & Vehli Janta Team
Writter : Jass Grewal | Lyricist : Tarsem Jassar, Sharry Mann & Jass Grewal
DOP : Anshul Chobey | Music Director(s): R Guru, Nikk Dhammu, Deep Jandu
EP : Jarnail Singh | Line Producer : Virasat Films
Choreographer : Ritchie Burton | DI : Pixel D Post Pvt.Ltd | DI Colorist : Santy
Editor : Manish More | Costume : Japneet Kaur Dhingra & Pawan Shergill
Publicity Design : Sharan Art | Music on : Vehli Janta Records
Banner : Vehli Janta Films | Digitally Managed by : Gold Media Entertainment
Special Thanks : Rhythm Boyz Ent, Ameek Virk, Bhagwant Pal Virk
New Rabb Da Radio Punjabi movie Wikipedia, star cast, release Dates: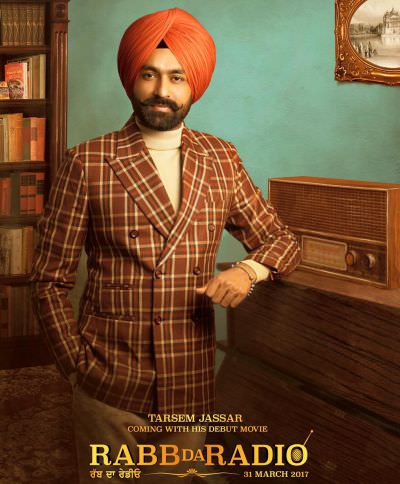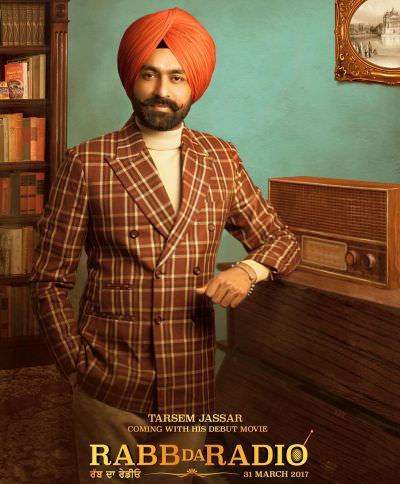 NEW RAB DA RADIO FILM ALL SONGS LYRICS | TRACK LIST
1. Sardara
Tarsem Jassar
2. Rabb da Radio
Sharry Mann
3. Akh Boldi
Tarsem Jassar, Ammy Virk, SIMI CHAHAL
4. Das Mereya Dilbara
Mohd. Rafi
5. Sadke Sadke
Kulbir Jhinjer, Mankirat Pannu
6. Rehmat
Tarsem Jassar
As most of well-known singers are turning into actros and movie making industry, here is Tarsem Jassar with his debut Punjabi film titled as "Rabb Da Radio" which is directed by Tarnvir Singh Jagpal. On the othe hands Mandy Takhar and Simmi Chahal will be opposing Tarsem Jassar alongside Raj Jhinger. It's a great news for Mandy's fans to see her on big screen after quite a long and as she is always amazing in her movies.This one is going to be much interesting also. Release date of Rab da radio movie has not been announced yet because the shoot will be staring in the mid of December, 2016.You can find here Tarsem Jassar's new Rabb Da Radio Punjabi movie Wiki info, full star cast, release dates & songs with lyrics.Trailer of film Rab Da Radio, posters.