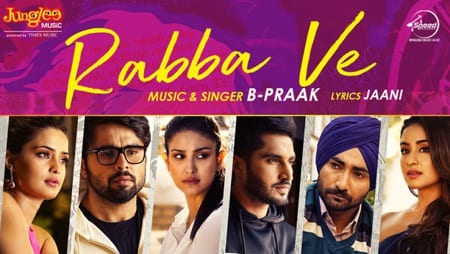 Rabba Ve Lyrics from the latest Punjabi film "High End Yaariyan" is a soulful song in voice of B Praak. He also has composed the lively track music. As all other fabulous songs of B Praak yet fascinating tune 'RABBA VE' also has its stanza been inked down by lyricist Jaani. Are you looking for the meaning of Rabba ve song lyrics ? No worries, LyricsRaag team has got it managed. The translation of song-lines in English is available.
Pankaj Batra has filmed the suitable shots for song "RABBA VE" featuring Jassi Gill, Ranjit Bawa, Ninja and Navneet Kaur Dhillon.
B PRAAK's RABBA VE SONG LYRICS | ALLAH VE
Allah ve, Allah ve,
Zindagi sidhi kar dinda,
Zindagi sidhi kar dindaa,
Sab kujh putha e reh gaya,
Meri vaari te lagda,
Tu rabba sutta e reh gaya (x2).
Na dita pyar, na dita sukoon,
Sadiyan ragaan ch kala khoon,
Ho dil sada tuteya, tuteya, tuteya, tuteya
Tutta e reh gaya.
O meri vari te lagdae,
Tu rabba sutta e reh gaya (x2).
Allah ve!
Khaali-khaali-khaali panneya wargi zindagi.
Akhan sade kol ne,
Par anneya wargi zindagi (x2),
Yaar de pairan da ban ke,
Yaar de pairaan da ban' ke,
Jaani jutta hi reh gaya.
Meri vari te lagdae,
Tu rabba sutta hi reh gayaa (x2).
Mere hi apneya nu,
Meri hai nai zarurat,
Mainu ajj tak kade ni aaye,
Supne khoobsurat (x2),
Supnay khoobsurat,
Jinu main chaaya main oyi gawaya,
Mainu ethe koyi samajh na paya,
Ho gal sada ghutteya ghutteya ghutteya ghutteya
Ghutta hi reha gaya, oh.
Meri waari te lagdae, tu Allah sutta hi reh gaya (x3).
MORE SONGS LIKE RABBA VE BY B PRAAK
The lyrics for Punjabi sad song "Allah / Rabb Ve" from "HIGH END YAARIYAAN"has been written by Jaani and are miraculously hummed by songster B Praak. Enjoy the English translations of beautiful song and find out the meaning of Punjabi song verses.
SIMILAR PUNJABI SAD SONGS TO RABBA VE
Last Updated on: January 29, 2019