"Railin Oligal" is a Tamil song that takes listeners on an evocative journey through its soul-stirring lyrics and hauntingly beautiful music. The song encapsulates the emotions and sensations of a train journey, making it a truly immersive experience for the audience.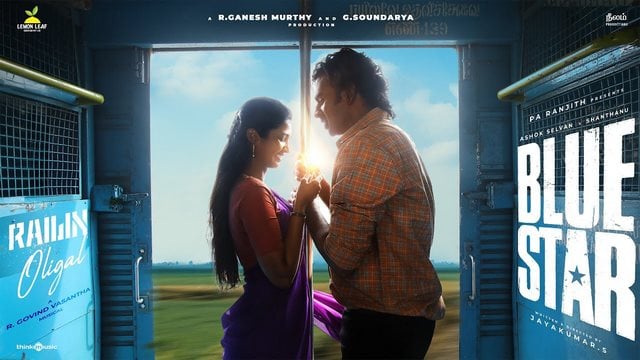 The lyrics of "Railin Oligal Unaiye Thedudhe" are nothing short of poetic brilliance. They transport the listener to the heart of a train voyage, where the rhythmic beats mimic the vibrations of the train itself. The words paint vivid images of passing landscapes, the gentle swaying of the carriage, and the unspoken emotions of the travelers on board.
The song captures the essence of fleeting moments in transit, where lives intersect briefly before continuing on their separate paths. It's a poetic reflection on the transitory nature of existence, much like the passing scenery outside the train window.
BLUE STAR TAMIL MOVIE · RAILIN OLIGAL SONG LYRICS
Railin Oligal Unaiye Thedudhe
Athirum Paraiyai Ithayam Adudhe
Undhan Kai Veesidum Poi Jadai Ennai
Edhen Thottathil Veesudhe
Un Oor Thandidum Raiyil Palam Mel
En Boomi Mudindhu Vidudhe
En Thayodum Kooradha, Varttaikkul Nan Neendhuren Kandhurane
Kanakkanum Poraikkul Kalattha Adakkakkuren Thekkuren
Manmelodum Mazhatthanni Pol Nalzum Nilamaruren Thooruren
Pazhaginra Nenjukku Palparva Nee Vakkura Kakkura
Kodi Vasangal Ennai Theendi Ponalum
Uyirai Theendadho Un Vasam
Boomi Theerndhalum Theeradha
Raiyail Padhai Kadhal Ondre Anbe
(Anbe! Anbe! Anbe! Anbe! Anbe! Anbe!)

Railin Oligal Full Song | Blue Star
The combination of Pradeep Kumar and Shakthisree Gopalan's vocals adds depth and richness to the song. Their harmonious performance perfectly complements Govind Vasantha's melancholy yet captivating melody.
Blue Star Film's Railin Oligal Music Video | Ashok Selvan | Keerthi Pandian
"Railin Oligal" is not just a song; it's an experience. It invites listeners to close their eyes and immerse themselves in the sensations of a train journey, complete with the ambient sounds and emotions that accompany them. It's a testament to the power of music to transport us to different places and times, evoking nostalgia, introspection, and a sense of wanderlust.
By giving the lyrics visual context, the S. Jayakumar-directed music video is probably going to increase the song's impact. The choice of Keerthi Pandian and Ashok Selvan as the starring actors further adds to the intrigue surrounding the song.