RANG GORA from AKHIL is a latest romantic song and its lyrics with meaning in Hindi and English translation are shared on this page. BOB named music director has created music beat and Jass Inder is writer of Punjabi tune "Rang Gora" lyric. Sukh Sanghera is director of music film and Speed Records is music company of track.
Rang gora wakhgra tora,
Rang gora tera wakhra tora
Akhan billiyan da paawein jaal kudey
Til bulliyan wala sangda,
Til bulliyan waala sangda
Att lagde ne reshmi baal kudey,
Rang gora vakhra tora.
The fair color and distinct walk,
You have fair color and a distinct walking style,
And you're catty eyes are so hypnotic
Your hair are very attractive
Fair color and a distinct walk.
तुम्हारा रंग गोरा और चाल अलग है,
और तुमहरी आँखें जाल डालती हैं,
तुम्हारे होंठों का तिल शर्माता है।
Surkh gallan oh cham-cham kardiyan
Teri ni, seyalan wali heer tu meri ni
Haske tu shehar sara lut ke lai jandi
Akhiyan de naal gallan keh jandi.
Your red cheeks are quite engaging,
You're like heer from seyal for me,
With just a smile you take away everyone's heart in the city,
And say things from your eyes.
लाल गालें जैसे छम-छम करती है,
सियाल वाली हीर तुम मेरी हो,
हसके तुम सारा शहर लूट कर ले जाती हो,
आँखों के साथ बातें कह जाती।
Tu ambron paar di lagdi
Utton kaatilana teri chaal kudey.
It seems like you're from different world,
And moreover, your walk is an overkill.
तुम आस्मां से पार से आयी लगती हो,
ऊपर से कातिलाना तुम्हारी चाल।
Rang gora wakhra tora,
Rang gora tera wakhra tora,
Akhaan biliyan da paavein jaal kuday
Til buliyan wala sangda, til buliyan wala sangda
Att lagde ne reshami baal kuday
Rang gora wakhra tora.
Main ambran da chan tere pairi dhar deyan
Je aakhein jaan haske vaar deyan
Langh gayi jado, tu mitha jeya sang ke
Haske ni, ni sama mera rokta tak ke ni…
Tu rab da jawaab lagdi
Mere dil da jo si sawal kudey.

I would bring the moon to your feet,
Would gladly give my life for you, if you say so,
When you passed by with a sweet smile,
It seemed like time has stopped,
You're like gods answer to my questions.
मैं आसमान का चाँद तुम्हारे पैरों में धार दूँ,
अगर कहो जान भी हसके वार दूँ,
निकल गयी तुम जब मीठा सा मुस्कुरा कर,
तुम खुदा का जवाब लगती हो,
मेरे दिल का जो सवाल था।
Rang goraa vakhra tora
Rang goraa tera vakhraa toraa
Akkhan billiyan da paawein jaale kudey
Till bulliyan wala sangda -x2,
Att lagdey ne reshmi baal.
रंग गोरा वखरा तोरा
रंग गोरा तेरा वखरा तोरा
अक्खां बिल्लियां दा पावें जाल कुड़े
तिल बुलियन वाला संगदा
अत्त लगदे ने रेशमी बाल कुड़े॥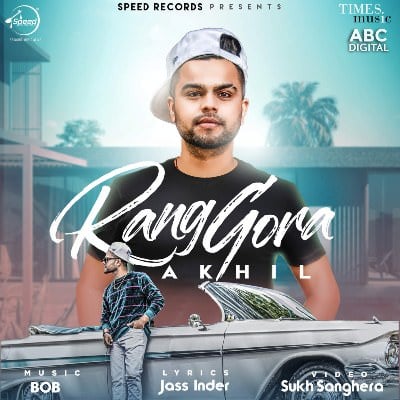 Song Credits / information:

Album Name / Song Title:
Rang Gora (Punjabi)
Artist(s):
Akhil
Lyrics Writer(s):
Jass Inder
Video Director:
Sukh Sanghera
Music Director:
BOB
Label:
Speed Records