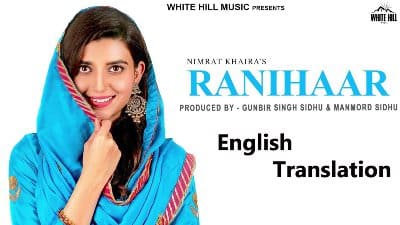 RANIHAAR LYRICS TRANSLATION – The latest song of Nimrat Khaira has gone viral and many of listeners have been looking for meaning of song verses. Here we have shared the English translation full song lyrics, Hope it will be helpful, Keep visiting.
RANI HAAR SONG LYRICS TRANSLATION
Vay thukk meri tere karke,
Balley oh tere jatta,
I am respected very much because of you, dear,
Tu fikar na kari naar da,
Tere hundeyan kisay ne ki kehna,
You don't worry about me,
Nobody would bear to say a word to me while you are there for me.
Ve ranihaar ki karna tu jatti da gaina.
What would I do with a necklace, dear?
I have you and you're like a most precious jewelry to me.
Pakisatn-on jutti chakvi ji tillewali teri aundi aa,
Birthday te ditte si jo jhumkay .Pandora de
Kannaa ch paoni aa,
Stylish traditional shoes for you are imported from pakistan,
The earnings you presented to me on my birthday, I still wear them,
Muchh nu chadauna ae,
Jad hasske bulauna ae,
Maar mukauna ae,
Aukha bachke rehna.
You fidget your mustaches,
While smile and talk to me
It kills me, it's so hard for me ignore you.
Ve raanihaar ki karna ae,
Tu jatti da gehna -x2.
Oh dear, what would I do with a necklace
While I have you.
Gadiyan vi jatan aaley saab diya 4 by 4 khadiya,
Mustang de mull diya ghodiya
Stud farm-an ch khadiya,
The 4×4 cars are parked at our place,
A Mustang car priced horses are many in our farms.
Lagge nazar na maadi ve
Manga eho lakh vaari ve
Rahe kaim sardari ve,
Das hor asaan ki laina.
Nothing bad occurs, I wish from God,
And your reputation remains harmless,
What more I would need ?
Ve ranihar ki karna ae Tu jatti da gehna.
O my beloved, what is the a necklace worth while you my most precious jewel are here for me.
Vadeyan lokaan naal khaore
Arjan'aa teri gall ki ki hundi aa,
Bayi-bayi tenu sare karde
Te nale mainu ji ji hundi aa,
I don't know what you talk to high profile people about,
Everyone respects you and me…
Tahi turan sir kad ke ve,
Tu gall kare gadd ke ve,
Haye keda tetho vadh ke ve
Kine tere naal khehna.
That's the reason I am so proud of,
You always say the truth,
There is no-one better than you
Who would mess with you?
Ve rani haar ki karna
Tu jatti da gehna -x2.
Oh my lover, What shall I do with a queen's necklace,
I don't need that, I have you and you're like my most precious jewel.