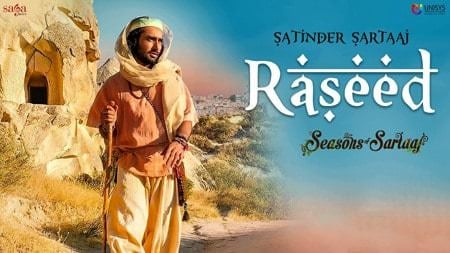 RASEED LYRICS from SATINDER SARTAAJ – The inspiring verses with satisfying vocals of artist is a new song from his album Seasons of Sartaaj. Sunny Dhinsey is director of music video and Jatinder Shah is song's tune creator.
RASEED FULL SONG WITH LYRICS
Bekarariyan hundiyan keemat ji,
Haasal ehna wichon ikminaan howe,
Fidaa sab hunde tu nisaar hoja,
Ohnu pata lagge taan gumaan howe,
Dila haar te sahi, aapa vaar te sahi,
Ethe haareyan di uchi shaan howe,
Aisi aashiqui kari sartaaj shayara,
Koyi hairaan howe te qurbaan howe.
Aisi ishq bazaar di reet vekhi,
Lakhan saah aaye te raseed koyi na.
Jine es jahaan wich pair paya,
Ohdi ami koi na ohdi eid koi na,
Ishq jehi asaan koi sheh vi nai,
Ishq jeha mushkil te shadeed koi na,
Oye tu andro hi lab sartaaj shayara,
Shad bahron milan di umeed koi na.
Eho lutf mohabbtan de wakhre ne,
Jadon dard howe odon hassiye ji (x2),
Kade hathan nu khol ke khair mangiye,
Kade cheesan ch muthiyan nu kassiye ji,
Kade patteyan agge gaaiye nazm saari,
Kade aape nu vi na dukh dasiye ji,
Ehi ishq da mool sartaaj shayra
Mehram jiwe aakhe onwein vassiye ji.
Eh udaas dise, eho jo ghamzada ae,
Eh jo dilfigariyan ch choor disda (x2),
Ehnu pucho ki khatteya ae dilbari cho,
Aggon aakhu hun dilbar cho hazoor disda.
Ehna sadke hi ishq de balan deeway,
Ehna karke mohabbtan cho noor disda,
Kithay khada ae sochi sartaaj shayar'a
Painda ishqay da haale badi door disda.
Dohan berhiyan wich vi ki pair dharna,
Ya taan hijr ban ja ya visaar ban ja (x2),
Karke honsla ve hoja ikko paasey,
Aa taan kakh ban ja, ya kamaal ban ja,
Yaa tan 'nereyan nu seenay naal la lai,
Ya tan kise de mukh da jamaal ban ja,
Howay rashq tere te sartaaj shayar'a,
Sartaaj shayar'a, ve sartaaj shayar'.
Howe rashq tere te sartaaj shayar'a,
Loki yaad rakhan tu misaal ban ja.