Rathipushpam Lyrics from the Malayalam movie 'Bheeshma Parvam' featuring Mammootty is a wonderful song, and it has sweet musicals by Unni Menon. The surprising lyrics of the Rathipushpam ditty are penned down by Vinayak Sasikumar. Sushin Shyam is the arranger of RATHIPUSHPAM's astounding music. The paradisiacal music video of the chantey is taught by Amal Neerad.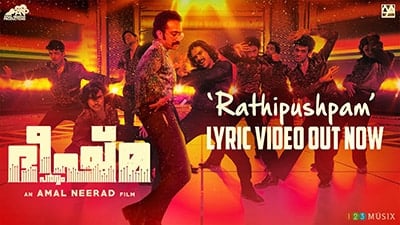 BHEESHMA PARVAM MALAYALAM MOVIE · RATHIPUSHPAM FULL SONG LYRICS
RATHIPUSHPAM LYRICS ENGLISH MEANING | BHEESHMA PARVAM
Rathi Pushpam Pookkunna Yamam,
When sensual flower blossoms,
Maridam Rasa Keli Thadakam,
Lake of passion be your bosom.
Suga Somam Theeunnu Daham,
Thirst longs for a wine-like pleasure
Nee Tharu Adya Romancha Bhavam,
Give me the first taste of thrill.
Adhara Shilppangal Madhana Thalppangal,
Carved lips.. dionysian bed
Chuderi Alunna Kama Harsham, Ennanu Nin Sangamam, Hey!
Hot blazing joy of lust When is your union?

Rathipushpam Full Song
Bheeshma Parvam Film's Rathipushpam Music Video | Mammootty
Take a look at the unique music video for Rathipushpam from a paradisiacal movie Bheeshma Parvam.
Let's stream Rathipushpam Song Lyrics that Unni Menon delightfully performed and are featured in the Bheeshma Parvam film of Mammootty . Vinayak Sasikumar has scripted the Rathipushpam Malayalam lyrics and Amal Neerad managedthe music video.