REALITY CHECK Lyric is a just out Punjabi anthem by Simiran Kaur Dhadli. Nixon sorted-out the music for REALITY CHECK. The lyricist Simiran Kaur Dhadli jotted-down the newest lyrics of the Punjabi song. Teji Sandhu directed the music video of 'REALITY CHECK', released on April 2, 2021.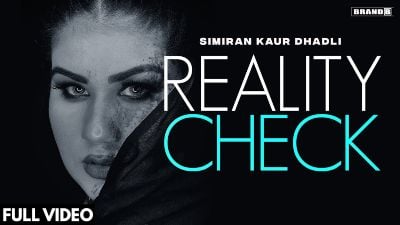 REALITY CHECK Punjabi SONG LYRICS • Simiran Kaur Dhadli
Main Ni Ghaur Kise De Jhaldi,
Mainu Dele Na Dikha,
Kaka Kadhke Main Rakh Laini A
Bachna Ta Nivi Pa
Main Velia De Ghar Jami A
Dini A Rat Pava,
Ve Tu Samjhi Na Darave,
Aake Jad Marzi Azma,
Gyan Tere Di Badli,
Aake Ethe Na Barsa,
Tu Ja Ghar Nu Apnia Sambh Le,
Tu Main Na Sikha,
Aa Bale Akde Firde Jo,
Teri Akad Te Kudi Taye Lagi,
Lak Nal Lakeera Kadhange,
Kite Ai Utte Je Main Agi,
Gal Mere Nal Karni Je,
Ik Gal Khane Wich Pa
Mere Taur Tareeke Wakh Ne,
Pehla Sare Sikhke A
Hatth Piche Akh Tahle Te,
Teen Foot Da Gap Bana,
Te Bohti Uchi Pitch Ni Tu,
Gal Bass De Wich Suna,
Ve Unj Kafi Mehngi Mildi Ae,
Tainu Mufti Meri Salah,
Ethe Order Uder Nai Chalde,
Koyi Likhde Khas Tu Bat,
Mere Gutt Te Kada Hai Sone Da,
Main Kale Dahge Nai Ban Di,
Mainu Adat Gal Manvon Di Ae,
Main Kise Di Gal Nu Nai Mandi,
Kayi Kehnde Ne Kudi Fukri Ae,
Kaiya Nu Wakhri Dikhdi A
Kaiya Nu Takleef Badi,
Main Kyon Gaundi Kyo Likhdi A
Ghare Jina Nu Puchda Nai Koyi,
Bang Den Nu Kale Ne,
Jedi Takri Onii Beh Gae,
Bina Tikea,
Truck Trala Kehn Mainu,
Mere Zor Di Hami Bharde Ne,
Man Hunda Comparison Mera,
Sana De Nal Karde Ne,
Aa Kudi Keho Jeha Likhdi Ae,
Thode Sunke Mahu Lad De Ne,
Thode Varge 3600 Meri Jeba Vicho,
Jhad De Ne,
Simiran Kaur Dhadli sings the REALITY CHECK song and it has its lyrics written by Simiran Kaur Dhadli, music composed by Nixon.