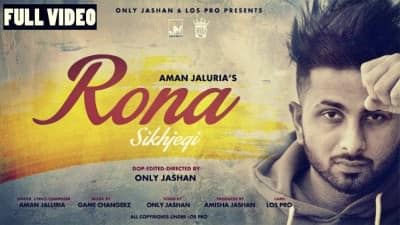 Lyrics Writer, Composer: Aman Jaluria
DOP, Editor, Director: Only Jashan
Producer: Amisha Jashan
Label : Los Pro
Rona Sikhjegi is a romantic-sad song with music production of Game Changerz. The Punjabi lyrics are well hummed & jot down by Aman Jaluria. Only Jashan is video director.
RONA SIKHJEGI FULL SONG LYRICS AMAN JALURIA
Oh kade karke
Pyaar kise nu
Ban kaniya athru dulne aa.
Lazmi si tera bewafa vi hona ni
Tere vadde supne poore kar jo sakeya ni,
Bada saukha thedda maar gayi ae
Dil ronde nu,
Aisa tutteya dhadak kise layi sakeya ni.
Jadon haase pathar ho jaane aa tere ni
Fir labbengi naale
Chete aune mere ni.
Phul wargiye fik jegi.
Oh kade karke dekhi pyar
Kise nu rona sikhjegi
Ban kaniya athru dullne aa
Dil tak tu bhij jegi.
Odon kach wargioye choor hona
Jad thokkar lagni sadran nu
Nain tarasne neendar nu
Jad pauna ni kise kadran nu.
Hauke ban ne saahan ton
Te haase uddne chehre ton
Kandha ton vi darr lagna
Naale sambhal ni hona tere ton,
Ik din tuvi reh jayengi kalli ni
Jad rail waqt di pattdi ton leh challi ni
Kina chir tik jengi.
O kadey karkey dekhi pyar
Kisey nu rona sikhjengi
Ban kaniya athru dullney aa
Dil tak tu bhij jengi.
Kookan aundiya mere dil cho
Bewafa tenu keh kehke
Kache kothe warga dil tu
Khordi rahi dil wich rehke.
Chup kara gayi haaseyan nu
Hasde nu but bana gayi jo
Na pushde lok Jaluriye ton
Jiddan di gutt shadda gayi oh.
Unglan shillge challe oye tanhiyan de
Uljh gayi jad ishq dum'a diya khayian ch
Fir ro-ro rijh jengi.
Jholi pa gayi ae tu mere tanhayi
Teri bewafayi maar gayi
Dil neeweya tu aas jithe laayi
Ohna nu uchayi maar gayi.