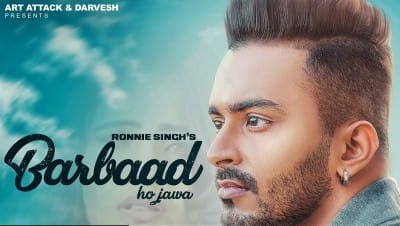 Barbaad Ho Jawa is a sad song performed by Ronnie Singh with co-singer Neetu Bhalla. The Punjabi lyrics are creation of Nav Kamboz. Harman Buttar is director of music video which stars Fenil Umrigar and Ronnie.
BARBAAD HO JAWA SONG LYRICS – RONNIE SINGH
Mainu pata vi ae tu
Mera kade nai hona
Na meri kadar paini ae
Na mainu apna banauna,
Meri reejh tere layi
Main dilshad ho jawa.
Fer vi pata nai
Mera dil kyon karda
Tainu ishq kara main
Te barbad ho java.
Haqiqat wich tu
Ik khaab mere layi
Main jinu chhu nai sakdi
Oh shabab mere layi.
Jis mile na
Supne wich mainu
Khud naal hi main ta
Naraz ho java.
Pher vi pata nai
Mera dil kyo karda
Tenu ishq kara main
Te barbaad ho jawa.
Main naal tere haye
Rooh da rishta rakhna
Par tu rishte da
Navi fayeda hi chakna.
Tu bhawein mainu
Hun bhul hi jaawein
Teri yaad ch dekhi
Ik yaar ho jana.
Mera ta khaab reh gaya
Tere naal rehn da
Tur challi main majboor hoke.
Ik dukh yaara bas dil nu
Main ta mari vi yaara tetho door hoke.