Roon Wargi Lyrics by Kulwinder Billa is latest song from the popular Punjabi singer. Shivjot is writer of verses of PTC Punjabi's presented song with video created by Navjit Buttar. Jassi X has very well sorted music beats of Kulwinder Billa's new "ROON, RU WARGI" tune lyrics which Hardeep Maan has conceived.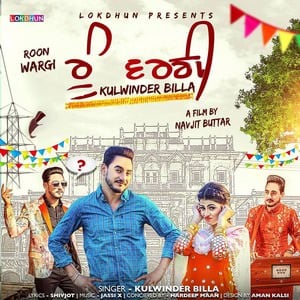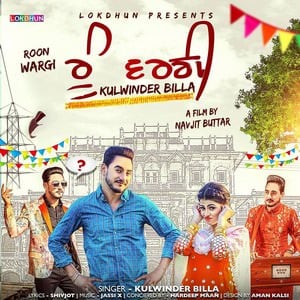 Song: Roon Wargi
Artist: Kulwinder Billa
Lyrics: Shivjot
Music: Jassi X
Label: Lokdhun
Release date: 7 March, 2017
KULWINDER BILLA TRACK ROON WARGI WITH LYRICS
Yaar de viah ch kabba ban geya si scene
Odan di lagdi aa zindagi rangeen -x2,

Kahda mode nal moda kheh gaya
Oh meri jaan hi kadd ke le gi,
Sorry keh gi roon wargi
Jatt di saari peeti leh gyi -x2.
Hun uthde behnde nu
Rehnde ohde kheyal sataunde
Bhang peeti hove jeyon
Aidan rehnde chakkar aunde -x2.
Jatt de dial ghuma gayi oh
Nakhro jodan de vich beh gayi.
Sorry kehgi ru vargi
Jatt di sari peeti leh gayi -x2.
Kise pind di lagdi na
Na hi shehar kise di jaape
Lagdi ambron utri ae
Jatt nu paaye jine seyape -x2.
Dil taan kadd ke le gayi oh
Kalli dhadkan palle reh gayi.
Sorry kehgi roon vargi
Jatt di saari peet leh gayi -x2.
Pattni jugtaan nal pari
Main vi botal di sohn khaa layi
Jehdi nakhre kardi si
Jatt ne mud-mud takkan la layi -x2.
Rabb ne mel kara dite
Shivjot nu love you keg gi.
Sorry kehgi ru vargi
Jatt di sari peeti leh gayi -x2.
You can know more about the dashing star "Kulwinder Billa," by watching this video.