RUKH LYRICS from AKHIL – The song is a most recently released and all over trending Punjabi song sung, well written by Akhil. Here read out meaning and English translation of all verses. HD music video of track is shared below: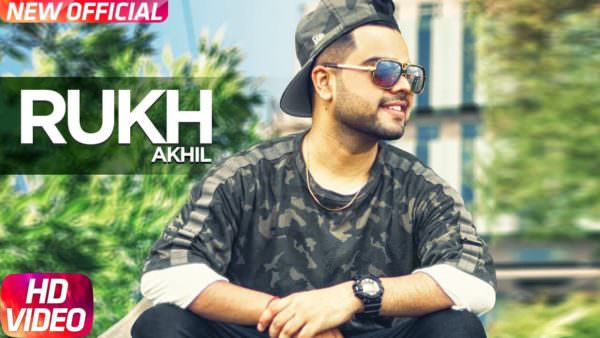 Album Name: Rukh [Tree, ਰੁੱਖ]
Performer, Songwriter: Akhil
Mixing & Mastering Engineer: Nikku 7 Mystics
Online Promotions: Gold Media
Video Director: Sukh Sanghera
Presentation: Sanjeev Sharma
Label: Speed Records
All the Akhil fans have been waiting for his new releases and not making everyone wait for too long, Here is Akhil with his brand new romantic song "RUKH" which is its music production done by BOB. Yes! He is same music producer which gave music to his ever famous song "Khaab." The team has put all their potential in this love struck Punjabi song. Sukh Sanghera is director of nostalgic music film released by Speed Records. The everlasting lyrics of song are magnificently inked down by Akhil while he also created its compose. 
NEW RUKH SONG LYRICS TRANSLATION BY AKHIL
#Tu rukh jehi jaapdi
Main taani wangu naal rahaan
Tu sukh jehi jaapdi
Ki apna main haal kahaan,
You seem like a tree to me
And I live with you like a twig of it
You seem like a comfort
How could I describe the way I feel ?
Akhan ch tu ik meri lakhan ch
Na  rakh mainu kakhan ch
Aja tu meri gali,
In my eyes you're the only one I see in hundred of thousands of people
Don't place me in straws
Come to my way.
Rab tainu manneya ae
Tere layi paak main haan
Tere layi haan jeyonda main
Tere layi khaak main haan.
I have considered you as my God
And I'm holy for you
I'm living for you
I'm ash for you.
Tu rukh jehi japdi
Main tahni wangu nal rahan
Tu sukh jehi japdi
Ki apna main haal kahan.
You appear to be like a tree to me
While I'm living with you as its branchlet
You appear to be like a pleasure
Don' know how to express how well it feels like.
Mili na je tu mainu
Taan main mar jana ae
Jitde hoye vi sab kujh
Main taan har jana ae,
Ki dassan tainu main
Kina main chaunda haan
Tere layi bas tere layi
Tere layi jeyonda haan.
If I don't get you
It's obvious that I will die
Even winning everything
Still I feel like loosing without you
What to tell you
How much I love you
For you only for you
I live only for you.
Tu howein na khafa metho
Khush rakhan tainu pyar karaan
Har gal wich haan hove
Na tainu inkaar karaan.
Wish you never be angry with me
Will Always make you happy and love you
Everything I will agree with you
Will never say NO to you.
Tu rukh jahi jaapdi
Main taani vangu naal rahaan
Tu sukh jahi jaapdi
Ki apna main haal kahaan.
Tere naal duniya meri
Tuhi mera rabb ae
Tere naal saah chalde ne
Tuhi mera sab ae,
Tere bagair taan yara
Mitti ho hova main
Marjawa osay thaan te
Je tainu khowa main.
My whole world is with you
You're my God
And I breath only because of you
You're my everything.
Dil kadd mera vekh la
Ohde utte tera naam hi aa
Tere nal wajood mera
Unjh main ta aam hi aan.
Take out my heart and see
It's is branded with your name
My existence is with you
Without it I'm a so common.
Tu rukh jehi jaapdi
Main taani wangu naal rahaan
Tu sukh jehi jaapdi
Ki apna main haal kahaan.
To me, you seem to be a beautiful tree
With that I'm living as a branchlet
To me, You seem to be like a luxury comfort
I really can't express my feel.