Run is a fast and furious rap song that showcases the speed and skill of Gaush, the second-fastest rapper in the country. Gaush, an accomplished and enthusiastic rapper from India, performed, wrote, and acted in the song. Karan Kanchan and Shreetej, two talented and well-known music producers and composers in the Indian rap scene, wrote and produced the song.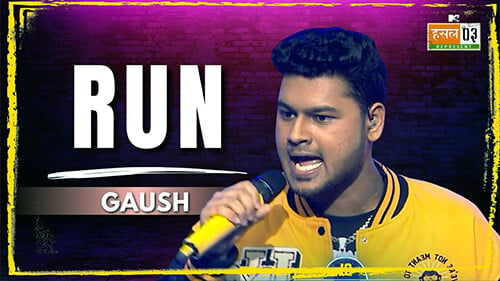 The song lyrics challenge everyone who doubts or competes with Gaush. They show how Gaush runs his rap game with confidence and style. The lyrics also show how Gaush uses his rap skills to impress and entertain the audience. The lyrics are fast and catchy, using rhymes, wordplay, and references to create a thrilling and memorable rap.
The song "Run" is a part of the MTV Hustle 03 reality show that features the journey and talent of up-and-coming rappers from different parts of India. The team behind MTV Hustle 03 has created a platform to support and promote Indian rap music, and they are responsible for directing the show. The contestants on the show receive mentorship and feedback as they compete for the title of India's best rapper.
RUN SONG LYRICS
Kholi Ankhein To Woh Nahi Yad Unhe Kho Diya Toh,
Jo Nahi Yahape Wo Phony Sare Inhe Goli Maro,
Inko Nikalo Ye Rats🐀 Famous Hain Snitch Bankar,
Rakho Sirf Sick🤒 Andar Jaise Tony Kahlon,
Jony Bravo In Aa Monte Carlo,
Listen My Car🚗 Tunes What's My Net Worth💰,
Laga Main Kitne Salo Se I Am An Expert,
Inke Best👌 Verse,
Se Behtar Hain Freestyle Mere Seekh Bhain,
Kare Ye Lead Kil Jaise,
Kare Wo Bate Wo Nahi Mere Level⚖ Pe,
Kitni Bari Main Dekha Ye Devil😈 Ke,
Jindagi Jeerahe Aur Hain Nahi Muqabla,
Hoon Moose Wala Main,
Muh Se Niwala Main Cheenunga Tere,
Tu Bhookhi Halath Mein Khale Ghoose Aur Late⌚,
Punch Mein Kick Hain Tu Doori Ye Nap Le,
Karun Yun Hi👋 Main Khatme,
Hain Kam Pe Focus🎯 Adios,
Kara Provoke To Lashe Shod Du,
Ake 2 Karate Blows🌬 Mein Kam Ye Close🔐,
Banate Dost Ye Kam Pe Log,
Bhain Samne Bolke Sare Chor,
Binoculars Se Dekhi Thekh Ye Ek Hi👋 Cheej,
Deke Bhi Ye,
Mother Fakhar Kare Beta Nikla Bahut Tez,
Gaushke Khauf Mein Bohot Se Bhaukte,
Yeah I Just Block These Rapers,
Scream Kare Jesus Christ If I Cross🔀 These Rapers,
I Diss Aa Peer Wo Disapear Jaise Casper,
I Capture Them In Aa Capsule And Caption It No❌ Cap🧢,
Capital Like👍 I Am Jason With Aa Capital C,
Aint Nobody Caping🧢 With Me,
You Aint Got The Caliber Please🙏,
Breathtaking Bars📊 Har Bari Tum Hafte,
Rehle Chup Tu Hain Jali Hum Jante,
Sun Gauresh Bana Gaush Nahi Sirf Re Nikal Ke,
Chote Gauresh Bana Gaush Seedhe Ari Nikalke,
Bump That👉 Thing When I Run🏃 That👉,
I Was Down👇 Bad🤢 Firse Kara Comeback,
Lagu Athlete Jaise Karun Run🏃 Tracks👣,
Aye I Run🏃 That👉 Aye I Run🏃 That👉 X2
Flamethrower Spit Karun Wahape Ag Lage,
Haq Hain Asli Ko Hain Day📆 Ones1️⃣ Ab Bhi Sath Khade,
Getting Plays🤹 Let Em Stay Stuck In The Jam,
Aur Hum Way⛖ Up🆙 In The Gram Apna Poora Circle⭕ Star🌃 Studed,
Milke Shakar Fir Ye Akad Tujhme Kaiki
Wild Boy👦 I Give🤲 Aa Damn If You🖕 Dont Like👍 Me,
Pitch Ab Perfect✅ Kari Maine Apni Gayaki,
They Couldnt Tel Our Vision If They👉 Saw🙈 It On🔛 Aa Widescreen,
Future Superstar Ban Ne Wala Thats👉 Aa Fact,
Drizzy Drake With It I Be Going🚶 Back↩️ To Back↩️,
Matter Fact Har Dropke Bad🤢 Dikhe Inke,
Mere Throw🤾 Se Inko Jalan Cal That👉 Acid Rap,
Nahi Rage Kisne Dekha,
I Paint🎨 Pictures🖼 With Vision Write✍ Pain🤕 Within Aa Bar🎯,
You Lame Kittens Are Sick🤒 And You🖕 Cant Get With Aa Star🌃,
I Make Wishes🙏 Come True Man👨 I Aint Wishing🙏 For God,
Gaush Pe Gaur Is,
Sher Mil Ake Pees De,
Share Milake Bees Par,
Sheher Mein Ilake Pees De,
Bajata Hu Behes Ki Agke Bin Main,
Bajata Nahi Bhainske Age👴 Been Main,
Mere Hausle Tak Pahuch Ye Sake Nahi,
Mere Khauf Mein Hain Bohot Se Dekhe Bhain,
Kare War💣 To Fir Maut Se Bache Nahi,
Tu Hoga God Level⚖ Pe Gaush Level⚖ Pe Nahi,
Bump That👉 Thing When I Run🏃 That👉,
I Was Down👇 Bad🤢 Firse Kara Comeback,
Lagu Athlete Jaise Karun Run🏃 Tracks👣,
Aye I Run🏃 That👉 Aye I Run🏃 That👉, X2

RUN MUSIC VIDEO
If you're looking for an enjoyable and impressive experience, the song "Run" is a perfect example of how lyrics, music, and visuals can come together. The song features fast, catchy lyrics, upbeat and dynamic music, and stunning, authentic visuals. It's a must-listen for anyone who loves rap music or enjoys fast-paced songs.
RUN SONG DETAILS
Track Name
Run
Singer(s)
Gaush
Lyrics Writer(s)
GAUSH
Composer(s)
Karan Kanchan, Shreetej