Saana Kastam song from the Telugu movie 'Acharya' featuring Chiranjeevi has beguiling lyrics and a first-class English translation with verbals by Revanth, Geetha Madhuri. The statuesque lyrics of the 'Sana Kastam' melody were scripted by Bhaskarabhatla. Mani Sharma was the artist of SAANA KASTAM's astounding music. The sweet-tempered music video of the limerick was aimed by Koratala Siva.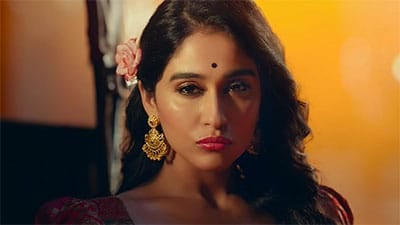 | | |
| --- | --- |
| Title of Song: | Saana Kastam |
| Movie: | Acharya |
| Performing Artist: | Geetha Madhuri, Revanth |
| Writer of Poetry: | Bhaskarabhatla |
| Instrumentalist: | Mani Sharma |
| Director: | Koratala Siva |
| Actor(s): | Chiranjeevi |
| Language: | Telugu language |
ACHARYA TELUGU MOVIE · SAANA KASTAM SONG LYRICS ENGLISH MEANING
Kallolam Kallolam Ooru Vaada Kallolam Nenosthe Alla Kallolam
Havoc! Havoc! Everywhere Havoc! Havoc Wherever I go!
Kallolam Kallolam Kindha Meedha Kallolam
Havoc Havoc, all over!
Na Navvu Alla Kallolam
My beauty drives people mad.
Naa Jada Gantalu Ooge Koddhi
The swing in my plaits
O Aragantalo Perige Raddhi
Drives up the traffic every minute
Dagadagala Vayyaranni Daachi Pettedelaaga
Where can I hide my lissomness?
Saana Kashtam Saana Kashtam
Very hard…Very hard…
Saana Kashtam Vacchinde Mandakini
Yes indeed, Mandakini
Choose Valla Kallu Kaakuletthukuponi
Ignore the voyeurs…
Saana Kashtam Vacchinde Mandakini
It's hard, I know, Mandakini.
Nee Nadum Madathalona Janam Naligeponi
I admire your belly button…
Naa Kolathe Choodalani Prathodu Tailor La Aipothaade
Every man wants to be my ladies' tailor to measure my perfect body.
O Nizanga Bhale Baagunnade Nee Moolanga Oka Pani Dorikindhe
Right you are…even we get some livelihood now
Yedaado Nimarocchani Kurraalle Rmplu Authunnare
Men want to be gynaceologists so they can feel my body.
Ye Idedo Konchem Thedagundhe Nee Abaddham Kuda Andhangundhe
This is a bit exaggerated but nevertheless lovely to hear, dear.
Illu Daatithe Ibbandhe Vompu Sompultho
It's tough to get out of home with my bounty of features.
Saana Kashtam Papam Saana Kashtam
Very hard.. Very hard..Very hard..Mandakini
Saana Kashtam Vacchinde Mandakini
It's hard, I know, Mandakini.
Antinchake Andala Agarotthini
You've ignited an incense stick of your beauty.
Saana Kashtam Vacchinde Mandakini
It's tough on you, Mandakini.
Naanammatho Teeyinchey Naradistini
Ward off the evil eye, with your elders' help.
Oh Yeah Oh Yeah Young Young Yammayo
Oh Yeah Oh Yeah Young Young Yammayo
Naa Paita Pinneesuni Adhento Villian La Chusthuntare
Do you know how men ogle at me?
Ye Level Lo Pose Edutunnave Maa Chevullo Pooledutunnave
That's another lie…now you're feigning.
Dhaabale Ekkesthare Peratlo Maayamme Nalugeduthunte
No, the men climb to our terrace to watch me bathe.
Nee Kahani Maakenduku Cheppu, Mem Vintunnam Ani Kottake Dappu
Stop lying with your litany of lies.
Gampa Gutthaga Sokulto Yetta Vegaala
It's tough to remain veiled with my body beautiful…
Saana Kashtam Arere Saana Kashtam
Very tough… Very tough…
Saana Kashtam Vacchinde Mandakini
Very hard…very hard mandakini.
Panchayitilettodhe Vaddoddani
No more discussions!
Saana Kashtam Vacchinde Mandakini
Very hard..Mandakini
Acchu Bommata Aatadinchu Yaavatthini
Let the glamour parade begin!

Acharya Film's Saana Kastam Music Video | Chiranjeevi
Let's watch up-to-the-minute music video for Saana Kastam from a sweet tempered movie Acharya.
Watch Revanth, Geetha Madhuri's neatly performed Saana Kastam Song Lyrics and their meaning which are featured in the Acharya film of Chiranjeevi. Bhaskarabhatla has noted down the Sana Kastam Telugu lyrics and Koratala Siva bound the music video.