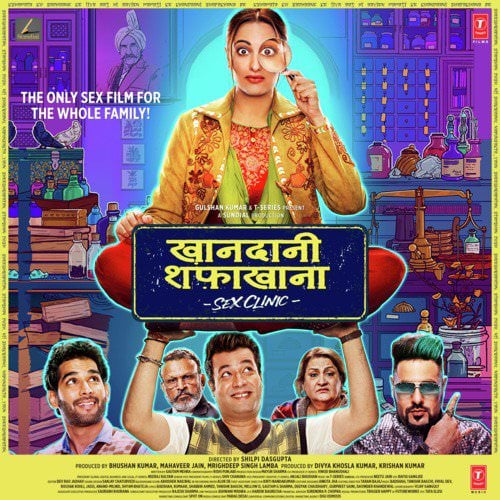 | | |
| --- | --- |
| Song Name: | Saans Toh Le Le (Hindi) |
| Movie: | Khandaani Shafakhana (2019) |
| Singer(s): | Badshah, Rico |
| Lyrics Writer(s): | Badshah |
| Music Director(s): | Aditya Dev |
| Actor(s): | Sonakshi Sinha, Badshah, Varun Sharma, Annu Kapoor |
| Record Label: | 2019 Super Cassettes Industries Private Limited |
KHANDAANI SHAFAKHANA | SAANS TOH LE LE SONG LYRICS MEANING
Agla Gaana Tussi Sunoge,
Punjab De Tadkeele Te Bhadkeele Naujawan,
Gabru Ghatak Di Awaaz Ch,
Iss Gaane Di Farmaaish Kiti Hai,
Ludhiana Ton Sukhwinder Singh,
Hoshiarpur Ton Bibi Bedi,
Ajror Ton Mintu Ji Ne,
Pesh Hai Bamb Gaana,
The next song you hear…
in the voice of Punjab's banging young heartthrob, Gabru Ghatak!
Song requested by – Ludhiana's Sukhwinder Singh…
Hoshiarpur's Baby Bedi and Ajrar's MIntoji-
Presenting this bomb of a song!
Kyonki! Kyonki!
"Coz ya know… "
Kyon Kyon Kyonki
Kyonki! Alright!
Chandigarh Pichhe Saara,
Laake Tu Rakhiyan Rakhiyan,
16 Ton Chhabbi Ek Da,
Brabra Bracket Saara,
"Yeah she's got herself All of Chandigarh chasin' her"
"Sweet sixteens to their thirties
They're all charmed by her"
Nikle Jab Tu Sadkon Pe,
Aate Jaate Ladkon Ke,
Aivein BP Se Khele,
"She glides on the roads pacing"
"Got the boys' pulses racing"
Ruk Ja Baby Saans To Le Le,
Saans To Le Le!,
"Wait up baby, take a breath! "
"Yeah take a breath."
Oh Baby Plan Banaati Hai,
Par Kabhi Na Time Pe Aati Hai,
Magar Jab Nain Milati Hai,
To Traffic Jam Karati Hai,
"Yeah she's busy plotting plans and never follows the schedules."
"But when she'll meet your eyes."
"She'll cause a traffic jam."
Baby Crazy Hai,
Naache Club Mein Zor Laga Ke,
Baby Mein Badi Teji Hai,
Bina Pankh Ke Mor Bana De,
"Baby's crazy, yo! "
"She dances in the club"
"And her moves are sick"
"She's the center of the hub"
Yeh Maal Thoda Mawwali Ae,
Har Sentence Mein Gaali Ae,
Na Bamb Hai Na Patakha Hai,
Yeh Ladki Poori Diwali Ae, Boom!
"She's a bit of a thug"
"A cuss in every line she says"
"She ain't no sparkler or bomb"
"She's a fireworks display! "
Bring That Back!
Ambarsar Rakhdi Karaake,
Kudiye Bang Bang Tu,
Chakkaran Vich Paake Rakhdi,
Tu Mundeyan Di Gang Nu (X2),
"All of Amritsar's her shindig"
"The boys they're spinnin' With all her diggin'"
Gabru Vi Tere Piche,
Hai Sentimental Ni,
Enna Vi Rude Na Ban Tu,
Ban Thoda Gentle Ni,
"This strapping young Gabru Has fallen for you"
"Don't be so rude, you Be tender or I'll rue"
Duniya Tera Paani Bharti,
Akhan Naal Gallan Kardi,
Chhad'di Na Kujh Vi Palle,
"The world's running on your fuel"
"But what you sayin' with your eyes"
"No one got a go__amn clue"
Ruk Ja Baby Saans To Le Le (Aw),
Saans To Le Le (Aw),
"Wait up baby, take a breath! "
"Yeah take a breath."
It's Your Boy Gabru!
Saans To Le Le! (Aw),
"Yeah take a breath"