Saffran Te Lyrics from the Punjabi movie 'Aaja Mexico Challiye' featuring Ammy Virk is a superb song, and it has fair voice by Bir Singh. The surprising lyrics of the Saffran Te sound are given by Bir Singh. Bhai Manna Singh is the musician of SAFFRAN TE's gratifying music. The striking music video of the limerick is guided by Rakesh Dhawan.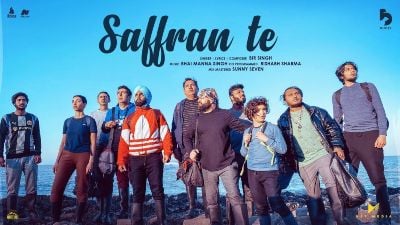 AAJA MEXICO CHALLIYE PUNJABI MOVIE · SAFFRAN TE FULL SONG LYRICS
Shal Uthe Dariyanvan Di,
Safran Te Putt Tour Ke,
Akh Lagdi Na Mavan Di,
Akh Lagdi Na Mawan Di,
Suhey Rang Da Gulab Hunda,
Ghar Val Rehan Nazran,
Mere Chette Ch Punjab Hunda,
Mere Chette Ch Punjab Hunda,
Shawan Vand Da Ae Board Koyi,
Bapu Tere Kol Hunde An,
Na Japi Rabb Di Vi Load Koyi,
Na Japi Rabb Di Vi Load Koyi,

Aaja Mexico Challiye Film's Saffran Te Music Video | Ammy Virk
Check out the different music video for Saffran Te from a striking movie Aaja Mexico Challiye.
Watch Saffran Te Song Lyrics that Bir Singh delightfully hummed and are featured in the Aaja Mexico Challiye film of Ammy Virk . Bir Singh has written down the Saffran Te Punjabi lyrics and Rakesh Dhawan commandthe music video.