"Sajna Says Yes to the Dress" is an upbeat promotional track for the show of the same name on Discovery Plus India. With colorful visuals and lively lyrics, this energetic Hindi-Telugu duet is a fun invitation to watch the show!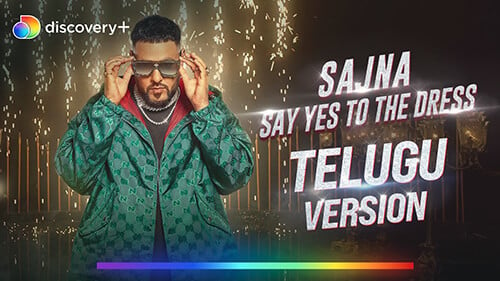 Rapper Badshah leads the addictive vocals alongside singer M.M. Manasi, their contrasting styles blending perfectly. Badshah's smooth rap verses urge viewers to say yes to the dress, while Manasi's velvety notes bring a vibrant charm. Their voices infuse vibrancy into the quirky lyrics penned by Badshah and Sri Sai Kiran.
The lyrics brim with playful phrases like "heart goes dhak," encapsulating the excitement of finding the perfect wedding dress. The composers, Aditya Dev and Badshah himself whip up a foot-tapping melody blending EDM and Indian sounds. Visually, director Punit J. Pathak pops the effervescent vibe through color and clever concepts.
SAJNA SAY YES TO THE DRESS TELUGU VERSION SONG LYRICS
Madana Na Pranam Needera
Neekosam Edaina Andistha Kadha Hayiga Hayiga
Na Manasantha Nuvena Nenante Nuvena
Nijamena Idhi Emaina Emaina
Too Hai Vo Jiske Liye Main Jag Sara Chhod Sakta Hoon
Second Na Lage
Too Hai Vo Jise Dekh Dekh Zara Sa Bhee Na Main Thakta Hoon
Nazar Na Lage
Har Din Tuje Karoon Impress Meri Jan
Just Say Yes To The Dress Meri Jan
Meri Jan Jan Meri Ban Gayi
Karoon Tere Age Confess Meri Jan
Sajna Tere Liye Sajna
Ye Chudi Kangana Bas Tere Liye Pai Hai Pai Hai
A Han Sang Tere Hai Jeena Marana
Qasam Maine Khaee Hai Khaee Hai Ay Ay Ay
Bas Tera Chale Too Le Le Poora Din
Ho Taiyar Too Ghante Na Gin Ay
Main Hoon Yaheen At Your Service
Take Your Time Shawty You Deserve It
Hath Mera Tham Let Me Make You Smile
I Like Your Swag You Like My Style
Detee Muje Window Seat Khud Letee Aisle
Jab Bhee Hotee Low Too Mera Number Kare Dial
Main Hoon Tere Sath Sath Too Hai Mere Sang Sang
Tere Sath Time Kee Khabar Na Lage
Kisi Bhee Chiz Mein Kasar Na Lage
Mangoon Dua Yahi Nazar Na Lage
Baby Aise Hill Mat No, Kar Hamein Kill Mat No
Too Mujko Milee Hai Ay, Ye Hai Meri Qismat
Madana Na Pranam Needera
Neekosam Edaina Andistha Kadha Hayiga Hayiga
Na Manasantha Nuvena Nenante Nuvena
Nijamena Idhi Emaina Emaina

Overall, from the lively lyrics to the groovy composition and vocals, "Sajna Says Yes To The Dress" makes for a high-energy watch. Its Indian wedding theme has global appeal, spanning cultural boundaries. For fans of melodic party songs, this promotional track hits all the right notes while inviting viewers to check out the show!
SAJNA SAY YES TO THE DRESS TELUGU VERSION MUSIC VIDEO
SONGS FOR YOU
Mtv Hustle 03 Anthem — Badshah, Dino James, Ikka
Gone Girl (Ladki Kharab Kar Di) — Badshah, Payal Dev
Sab Gazab — Badshah
SAJNA SAY YES TO THE DRESS TELUGU VERSION SONG DETAILS
Track Name
Sajna Say Yes To The Dress Telugu Version
Singer(s)
Badshah, M.M. Manasi
Lyrics Writer(s)
Badshah, Sri Sai Kiran
Composer(s)
Aditya Dev