Sanak Lyrics by Badshah: Mujhe Nachne Ka Shauk Tha is the all-new and desirable Hindi song. Hiten is the editor of amiable music. The spectacular Sanak Hindi lyrics of the melody are provided by Badshah. The nifty music video of the fascinating chant is controlled by Bijoy Shetty.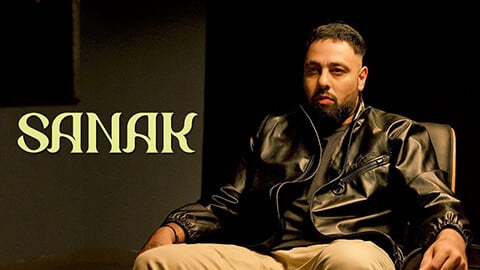 Badshah's latest track, "Sanak", is an energetic Hindi rap song that will make you groove to its beats. The music video is visually stunning, with many dancers and great visuals. Badshah has written and composed the song himself and has done a great job at it. The lyrics are typical of a rap song, where the rapper brags about himself, but the track chorus has folk vocals that give the piece a unique touch. The video direction by Bijoy Shetty is top-notch and enhances the overall feel of the song. Overall, "Sanak" is an entertaining track that showcases Badshah's talent as a rapper and composer.
BADSHAH · SANAK SONG LYRICS
Pyar Itna Zyada Diya Ki Woh Rone Lagi
Mansik Santulan Apna Khone Lagi
Pehle Ganda Kiya Phir Khud Hi Dhone Lagi
Ek Rat Mein Hi Love Usey Hone Lagi
Maine Bola Ek Choti Si Fight Hai Subeh Theek 6 Baje Meri
Chandigarh Ki Flight Hai Schedule Thoda Tight Hai
Kehti Aditya
Jhuth Bolne Ki Bhi Ek Height Hai
Kaise Bataun Life Jhuthon Se Bani
Piye Zehar Ke Jo Ghuton Se Bani
Meri Na Kisi Insan Se Bani
Bani Toh Bas Kabristan Ke Bhuton Se Bani
Main Kabhi Bahut Zyada Sad Kabhi Bahut Hi Funny
Mere Goyard Ke Bag Kanon Mein Tiffany
Mere Aur Jeet Ke Bich Koyi But If Ni
Ch___yon Ki Tippni Pe Na Karun Tippni
Tere Jaisa Kahan Se Main A_d Chat'ta Hai Tu
Main Upar Wale Se Brahmand Mangta Phirun
Kabhi S_x Toh Kabhi Gyan Bantta Phirun
Jo Bhi Jalta Hai Uski G__d Phadta Phirun
Hit Pe Hit Main Marta Phirun
3 Rat Lagatar Ab Main Jagta Phirun
Bholenath Ke Sath Meri Banti Hai Sahi
Usey Nachane Ka Shaunk Hai Main Nachta Phirun
Mera Peer Nachaunda Ve Sajjna
Sanu Te Nachna Nai Aunda
Mera Peer Nachaunda Ve Sajjna
Sanu Te Nachna Nai Aunda
Humein Dubne Ka Shaunk Tha
Usey Bachana Ata Tha
Humein Machne Ka Shaunk Tha
Usey Machana Ata Tha
Jodi Kya Hi Khatarnak Thi Humari
Ke Humein Nachne Ka Shaunq Tha
Usey Nachana Ata Tha
Mera Peer Nachaunda Ve Sajjna
Sanu Te Nachna Nai Aunda
Mera Peer Nachaunda Ve Sajjna
Sanu Te Nachna Nai Aunda

Sanak Hindi Music Video | Badshah
Let's play new music video for Sanak with pretty lyrics magnificently sung by Badshah.
Sanak Song Details
Name of Song
Sanak
Backing Vocalist
Badshah
Lyricist
Badshah
Music Director
Hiten