Sanawar is a exquisite song, and it has fascinating vocal by Dilpreet Dhillon, Gurlej Akhtar. The slick lyrics of the ballad are given by Narinder Batth. Desi Crew is the editor of SANAWAR's stylish music. The very nice music video of the enjoyable ode is targeted by Yug.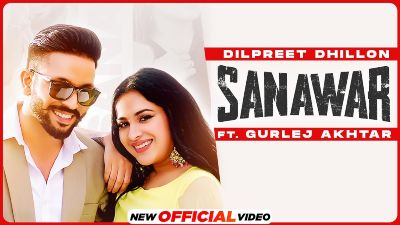 DILPREET DHILLON, GURLEJ AKHTAR | SANAWAR FULL SONG LYRICS
Desi Crew Desi Crew
Oh Jehdi Vigde Jatt Te Mardi,
Jatti Rahi Sanawar Padhdi,
Oh Chuni Jhilmil Tare Kardi,
Oh Geet Bajaundi Jatta De,
Ho Nakhron Khadi Dunali Wargi,
Raund Fakaundi Jatta De,
Ho Ma Da Pattea Kabootar Cheena,
Jodi Saif Nal Jiven Kareena,
Viah Ton Bad Ni Paundi Jeanan,
Ve Dhilon Likhauna Kangne Te,
Ve Tere Pistol Nalo Mehnga,
Lehnga Pauna Mangne Te,
Ho Udi Chal Pataliye Nare,
Gabru Dukh Tod Doon Sare,
Ho Wajjde Batthan Wich Lalkare,
Kitti Han De Handiye,
Ho Mere Na Da Tattoo Bukdae,
Teri Banh Te Handiye,
Ve Jehde Rang Da Dupatta Laindi,
Osse Rang Di Car Vich Behndi,
Main Jehde Rang Da Dupatta Laindi,
Osse Rang Di Car Wich Behndi,
Touchwood Jama Lightly Laindi,
Ve Fane Khan Colegean De,
Ho Jatti Bina Election Chundi A,
Pardhan Colegean De,
Ho Sade Lekhan Wich Sardari,
Gate Te Khade Guard Sarkari,
Jithe Chale Dabdaba Bhari,
District 18 Handiye,
Ho Jatt De Mood Mutabik Chaldiyan Ne,
Sarkaran Handiye,
Ve Main Tera Kina Sohnea Kardi,
Tere Adabpune Te Mardi,
Duniya Kithe Kise Nu Jarrdi,
Kadh Ke Kanda Dhardi Ve,
Oh Je Koi Banea Pyar Wich Kaidon,
Pittal Thanda Kardi Ve,

Check the joyful lyrics of Dilpreet Dhillon, Gurlej Akhtar's newly discovered Punjabi song Sanawar. The originator Narinder Batth introduces the acceptable lyrics.