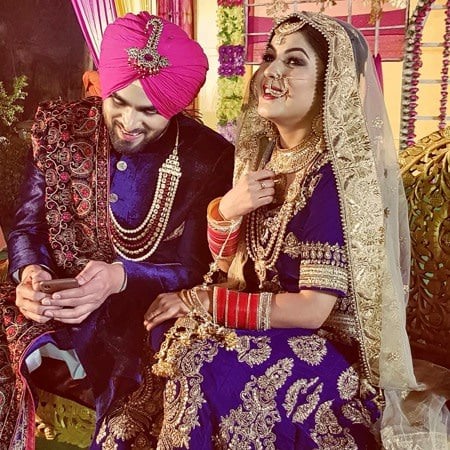 SANGDI LYRICS featuring glamourous Punjabi model Shehnaz Gill, is a new song from Inder Chahal. The loving music tune has been created by Gupz Sehra and equally good Punjabi lyrics to "Sangdi" come from Jaggi Sanghera.
Directors of music video are Shubham Kumar, Harry Panesar fromTeam Last Page. T-Series has publisher of this latest song.
INDER CHAHAL's SANGDI SONG LYRICS
'nand kaarj karaake jadon awange,
Fer lokan kolon vaarne puwavange (x2),
Khushi hou naam thodde naal judeya,
Sunungi jadon boluga bulara,
Parchi cho parh ke,
Unjh thonu vi pata ae, ji main kina sangdi aa,
Par odhe (os din) pakka nachu thoddi bahn fad ke (x2).
Raja sherwani paake ve tu lagna,
Main waang raaniya de hona ae teyar ve,
Ho vadda palace karaya book dad ne,
Jine sadhne ne sadh lawi yaar ve,
Daaru peeneya dae kanni gall kadd di,
Ve jatta khoru paun na ve
Ainve kisay naal larh ke,
Unjh thonnu vi pataa ae,
Jee man kina sangdee aa,
Par ode pakka nachun thoddi baahn fad ke (x2).
Dowein ral ke kattange parivar naal,
Thodde muh 'ch paaun chamche main cake de,
Oh mainu fad ke floor utte le jaayo,
Muh adde reh jaan ge harek de,
Gaana likheya sangere pind wale da,
Ve jaggi tetho jatti ne gawauna, zid naal arh ke.
Unjh thønu vi páta aé, ji main kina sangdi aa,
Pár odhé pakka nachu thoddi bahn fad ké (x2).
MORE SONGS FROM ARTIST INDER CHAHAL
[/su_list]