Sare Karo Dab Lyrics (aka Saiyan Sang Dab Karungi) from the ever-most awaited music album Zero To Infinity is a recently released song. The performers are Raftaar, Sonu Kakkar and Muhfaad with following music video creation by Robby Singh.
Muhfaad and Raftaar have penned and composed the lyrics to song "SARE KARO DAB" and Zee Music Company has released this track on 30 May, 2018.
SARE KARO DAB SONG LYRICS – RAFTAAR | SAIYAN SANG DAB
Saiyan Sang Dab Karungi -x3,
Saiyan Sang Dab…
(Repeat).
Saiyan Sang Kohni Mod,
Maar Sar Beech Mein,
Ek Haath Peeche Kar,
Aasmaan Kheench Le,
Floor Pe Tu Aa,
Ab Dab De Dabaa Dab
Kaise Move Karti Kamar Zara Teach Me.
Style Angrezon Ka Banaaya Humne Desi,
Heat Itni Beat Mein Ki On Karo AC,
Baat Muhfaad Ke Bata Raha Hoon,
Stamp Bhijwa Raha Hoon,
Dhoondh Ke Dikha Diyo Tu Yari Apne Jaisi.
Aisi Taisi Mein Gaye Woh,
Unme Na Yeh Class Hai,
Aaj Ki Taiyari Thi Gawah Yeh Itihas Hai,
300 Ka Nakli Joota Leke Maara Style Maine
Aaj Yeezy Asli Teen Dhaari Adidas Hai,
Toh Maa Se Jaa Ke Puch Lo,
Khilaya Kya Tha Sher Ko,
Yeh Li'l Pack Tez Rakhe Gear Ko,
Aafton Ko Cheer Ke Main Aaya Iss Paar,
Sajaniya Khush Aaye Saiyan Raftaar!
Saiyan Sang Dab Karungi -x3,
Saiyan Sang Dab… (X2)
(Repeat).
Saare Karo Dab…. Dab
Chalo Saare Karo Dab… Dab.
Jaldi Se Circle Ke Andar Mein Aa
Circle Mein Aake Tu Move Dikha
Move Se Mujhko Tu Groove Kara
Tujhse Se Na Koi Bhi Behtar Yahan.
Chal Whip Kar Baby Baby,
Thoda Bahut Nene-nene,
Shuffle Karenge Beat Double Karenge,
Sab Hone Lage Crazy Crazy -x2.
Saare Karo Dab,  Dab,
Chalo Saare Karo Dab, Dab.
Upar Se Jaati Baatein,
Sar Ke Kar Ke Mind Blow,
Trigonometric Agli Line Kar Rewind Bro,
Tan Skin Cause Brown Complexion,
Within A Sec Tera Bhai Na Hua Hai Sign Bro.
Tera Bhai Aage Badh Raha,
Aage Badhta Dekh Mujhko Paara Inka Chadh Raha,
Yaar Aadmi Hai Tu Yaa Teesri Hai Taang Tu,
Sehlaao Jitna Pyaar Se Tu Utna Hi Akad Raha.
Ringa-ringa Roz Hi Leti Selfiyan Pose Mein,
Johny Johny Yes Bolke Nahi Hai Hosh Mein,
Mera Dab Karta Haal Jo Kare Na Tera Maal,
Saare Naachne Lagoge Ek Dose Mein,
Aaya Main Beat Mein Fit Karo Tap,
Khaali Pada Floor Khatam Karo Gap,
Bori Bistaron Ko Sarne Waale Karo Back,
Par Chaahne Waale Saath Mein Karo Sare Dab.
Kya Laga Gaana Finish?
Arey Class Toh Ab Shuru Huwa Hai.
Qatal Kare Kalesh Ka
Kedi Kalam Kalol Ki
Kadakta Khoon Khaul Ke
Kasar Kala Ki Kholti..
Fukata Fukron Ki Fakar Se,
Fursaton Ki Fer Mein,
Fir Fat Se Udta Furti Mein,
Farrata First Gear Mein.
Kadi Ki Kashti Khushnuma,
Kyun Kall Pe Kal Ke Kekde,
Kasam Khuda Karam Karo,
Karam Jalo Ke Case Mein.
Free Fund Hi Firte Firte,
Faaltu Mein Fintu Fullet Faad Di,
Faila Dab Saare Desh Mein.
Sare Karo Dab, Dab
Chalo Sare Karo Dab, Dab.
Saiyaan Sang Dab Karungi
Saiyaan Sang Dab.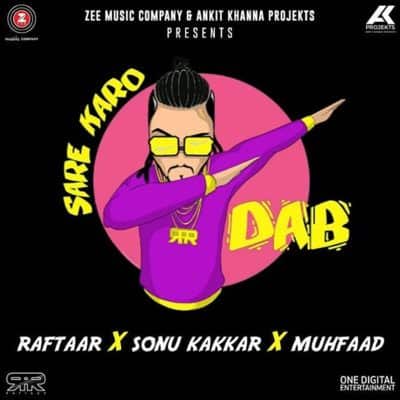 | | |
| --- | --- |
| Song Name: | Sare Karo Dab (Zero to Infinity) |
| Artists: | Raftaar, Sonu Kakkar, Muhfaad |
| Lyrics Writer: | Raftaar, Muhfaad |
| Video Director: | Robby Singh |
| Music Director: | Raftaar |
| Label: | Zee Music Company |