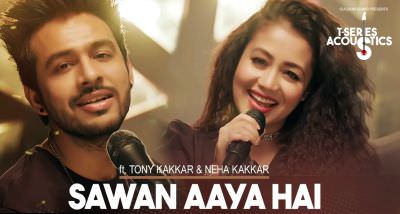 Sawan Aaya Hai Lyrics from T-Series Acoustics is⁠⁠⁠⁠ a new rendition of Popular Hindi Song "Sawan Aaya Hai" by Tony Kakkar & Neha Kakkar. Prakhar Khemka directed music video of tune while DOP has been handled by Ubaid Atique. Music of Tony, Neha Kakkar's song is mixed by Praveen Muralidhar while mastering has been done by Shadab Rayeen and lyrics of "SAWAN AAYA HAI" are handwritten by Tony Kakkar.
T-SERIES ACOUSTICS' SAWAN AAYA HAI NEW SONG LYRICS – TONY KAKKAR & NEHA KAKKAR⁠⁠⁠
Humko ye batao
Door kaise tum rehte ho
Kaise judayi ka
Gham yaara tum sehte ho,
Hum tanha marjayenge
Yaara teri yaad mein
Dekho bheege hai kitna
Ashqon ki barsaat mein.
Zakhm dikhaun kaise dil ke mere
Logo ne kitna sataya hai,
Mujhe na aur rulana tu
Sawan aaya hai
Mere dardon ko mitana tu
Sawan aya hai.
Sabse chupake tujhe seene se lagana hai
Pyaar mein tere hadh se guzar jana hai
Itna pyar kisi pe pehli baar aya hai.
Mohabbat barsa dena tu
Saawan aaya hai…
Dil ye dhadakta hai
Tere dil ke hi dhadakne se
Hum bhi tadapte hain
yaar tere hi tadapne se.
Ishq mein dooba-dooba hoon
Mujhko na ab hosh hai
Yaar zameen ke ishq mein
Aasmaan behosh hai.
Kaise dikhaun ab junoon ye mera
Tere ishq ne paagal banaya hai.
Dil nahi aur dukhana tu
Saawan aya hai
Tere bhi zakhm dikha na tu
Sawan aaya hai.
Tumse door rehna
Ik saza hai majburi hai
Meri zindagi toh
Yaar tere bin adhoori hai,
Log toh kya kya kehte hai
Dil seh sehke rota hai
Kaise tumko bataun mere
Saath sanam kya hota hai.
Apne paraye hone lage hain
Jabse tumko apna banaya hai.
Hamesha saath nibhana tu
Savan aya hai
Tere aur mere milne ka masuam aya hai.