Sengaandhale Lyrics from the Tamil movie 'Aranmanai 3' featuring Andrea Jeremiah, Raashi Khanna, Arya is a beguiling song, and it has sublime aria by Reema. The fantabulous lyrics of the Sengaandhale ode are inked down by Pa. Vijay. C. Sathya is the editor of SENGAANDHALE's precious music. The smooth music video of the poesy is superintended by Sundar C.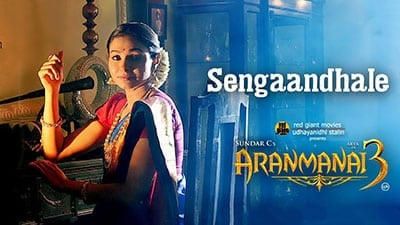 ARANMANAI 3 TAMIL MOVIE · SENGAANDHALE FULL SONG LYRICS
Sengandhale Unai Allava
Chella Thendrale Unai Yendhava
Alaithen Unnai Ennodu
Iruppen Endrum Unnodu
Anbe Un Kaigal Ennai Theenduma
Midhandhen Katril Katraga
Nadandhen Iravil Nizhalaga
Kanne Un Kangal Ennai Kanuma
Aararo Arariro Aararo Arariro
Chinna Chinna Malar Kuviyalai Pol
Enakkul Malarndhai
Ennai Enna Uyir Silirkka Vaithu
Karuvil Asaindhai Unnai Perum Annai Vali
Vali Alla Oor Varame En Marbile Koodu Katti
Nee Urangidum Nal Varume
Pal Kasiyum Idhazhodu Unnai Kanave
Deivam Kooda Osai Indri Vandhu Pogume
Sengandhale Unai Allava
Chella Thendrale Unai Yendhava
Annai Nenjil Anal Erigaiyile Mazhai Pol Vandhai
Endha Dhisaiyilum Iruttukul Nan Velicham Thandhai
Jenmam Ondru Podhathendru
Ezhu Jenmam Nan Sumappen
En Vazhvile Ore Inbam
Kannil Vaithu Parthu Kolven
Unmel Dhoosum Theendamal Kapen Anbe
Kalam Muzhudhum Unakkaga Vazhven Anbe
Sengandhale Arariro Chinna Thendrale Arariro

Aranmanai 3 Film's Sengaandhale Music Video | Andrea Jeremiah | Raashi Khanna | Arya
Stream newly published music video for Sengaandhale from a smooth movie Aranmanai 3.
Let's check out Sengaandhale Song Lyrics that Reema sublimely crooned and are featured in the Aranmanai 3 film of Arya, Raashi Khanna, Andrea Jeremiah . Pa. Vijay has scripted the Sengaandhale Tamil lyrics and Sundar C. formalthe music video.