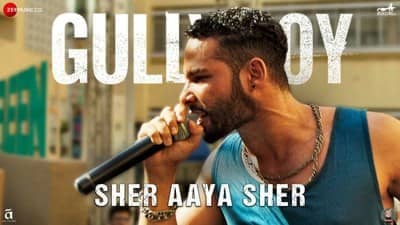 Lyrics to 'Sher Aaya Sher' from 'Gully Boy' by 'Divine' is a Hindi rap song. Catch the meaning of Hindi lyrics in English, translation of full song.
SHER AAYA SHER SONG LYRICS MEANING
Sher ki zubaani, Sun ye sher ki kahani
A lion roars his own story.
Yaha rap nahi hota, Tere vehem ko bhagadi
This rap will end your delusion
Ladkiyan na gaadi, Apni alag hi aabaadi
Chicks and cars Don't make me feel big.
Asal rap ka ye jwala, Tere aatma me jagaadi
Truth sets my soul on fire
Kyuki farak hai, Haan tujhe chedne ki talab hai
You're not like me 'coz you're a fake
Tu nakli wala marad, Mardaangi pe kalank
Haivaniyat ki shakal, Jitni tujhme me garmi.
A snake for women. A blot on mankind.
Usse zyada garam, Mera kalam
My words have more heat than you
Kyu itna besharam,
Shame on you!
Kaam ka wo aaj, Jisme tera kal nahi
You have no future.
Kya kaam ka wo kaam, Jisme tu safal nahi, Bal nahi.
You have no strength.
Dimaag ki zarurat, Tere bhai ki hukumat
Use your head, this is my rule
Sacchai ki ye Surat
My word is law!
Bhag bhag bhag,
Run for your life.
Aaya sher aaya sher
This lion is on the prowl.
Sacchai ki ye leher
Harr mohalle me keher
The wave of truth has flooded the town
Aan dadagiri band kar
Tu chal to sambhal kar
Stop throwing your weight around Watch your step.
Khud ko to dhundhke tu, Usko amal kar
Be true to yourself.
Nakhli guroor, Usko masal kar
Kill your arrogance.
Nakhli vajood, Usko kuchal kar
End this empty existence.
A zara kam kar, Shaane giri kam kar
End this hustling,
A zara kam kar, Lukkhe giri kam kar
and random muscling.
A thanda kar jo bukhar tere sar par, Kam kar
Cool that fever.
Guroor ye khatam kar
End this bragging
Bhag bhag bhag, Aaya sher aaya sher
Run for your life This lion is on the prowl.
Sachai ki ye leher, Har mohalle me keher
The wave of truth has flooded the town.
Bhag bhag bhag, Aaya sher aya sher,
Run for your life This lion is on the prowl