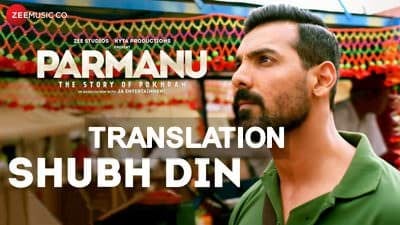 Shubh Din Hindi song lyrics with translation in English from the Bollywood film Parmanu. Jyotica Tangri & Keerthi Sagathia have sung it and lyrics in Hindi are penned by VAYU.
SHUBH DIN SONG LYRICS TRANSLATION
Hey, sajni raahein mangal gaavein
Mann upji phulwari re
The roads are joyous flowers have bloomed.
Saaje gaaje baaje goonje
Sapno ri yue kilkari re
Adorned in finery, my dreams rejoice
Van upvan abhinandan karta
Chhayin dhaka panihari re
The earth welcomes the arrival of the rain clouds
Shakkar phaanko, jhaanki jhaanko
Hui jashan ki yeh taiyari re
Celebrate with sweets, join the merrymaking, it's time to celebrate.
Mann alsaayo ghan barsayo
Mann sukhwalo jee re,
These rain clouds bring showers of happiness.
Aayo re shubh din aayo re,
It is a day for festivities.
Shubh din aayo mann ne bhayo
Nayo nayo sau eh rang laayo
It is a day for festivities there is color all around
Honton pe muskan gulabi laayo re
Happiness abounds smiles everywhere.
Ayo re shubh din ayo re,
It's a day for festivities.
Chanda laajo deepak laajo jagmag taarein laijo ji
Call upon the moon and bring the lamps gather all the dazzling stars
Jagmag taare laijo laijo jagmag taarein laijo ji
Gather all the dazzling stars.
Khushiyaan baatu dil mein sab ke
Let us spread happiness.
Saakar misri bhar do ji
Let every heart be filled with joy.
Har din ye pyaro kismat walo, aayo re
To rejoice on this wonderful day
Padharo re,
Padharo ji ae.
Welcome to the land of festivities.
Mangal gaavo, shubh din aayo
Sing praises on this glorious day -it is a glorious day.
Bali bali jaao, shubh shubh din aayo
Rejoice on this glorious day -it is a glorious day
Phool sajao – shubh din aayo
Adorn with flowers -it is a glorious day
Jashan manao – shubh din ayom
Let us celebrate, it is a day for festivities.