Single Double Lyrics from latest Sardar Mohammad film: The song is hummed and inked down by Tarsem Jassar, Harry Bhatti is director and music is created by R Guru.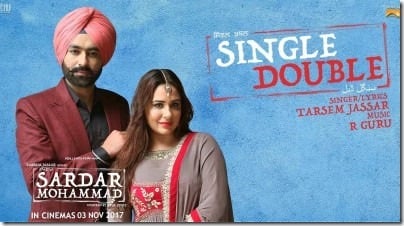 Song : Single Double
Movie: Sardar Mohammad [2017]
Singer : Tarsem Jassar
Music Director : R Guru
Lyrics Writer: Tarsem Jassar
Director : Harry Bhatti
SINGLE DOUBLE FULL SONG LYRICS SARDAR MOHAMMAD | TARSEM JASSAR
Tasveer Wicho Nikal Ke Baahr Aa Jave
Mere Shishe Vich Di Shingaar La Jave
Aisa Bhagaan Wala Oh Din Aa Jave
Nikki Bhain Shagan Manaugi,
Ho Single To Yaar Thodda Double Hoya
Ik Choore Wali Zindagi Ch Augi -x2.
Ho PG Nal Rakhu Kendi Gand-Tupp Karke
Tere Nal Rahungi Oh Main Taan Jattan Adke,
Ho Shakllo Va Bholi Par Adab Batheri Aa
Diwali Nu Chala Laindi Dunali Hathon Fad ke.
Homeopathy Wangu Late Asar Karu
Lage Kayi Aadtan ta Shadwaugi.
O Single To Yaar Thodda Double Hoya
Ek Choorhey Aali Zindagi 'Ch Augi -x2.
Kendi Tere Amloh Nu
Tu Layin Rushna Ve
Kille De Bagal Wich
Tent Layin Laa Ve.
Ho Jassar'a Ve Naam Pishe Tera Got Lag Jaye
Zindagi De Vich Bas Iko Meri Chaa Ve.
Chun-Chun Ke Kharidu Rang, Menu Paggan De
Dekhi Raajeyan Waang Oh Sajaugi,
Oh Single To Yaar Thodda Double Hoya
Ik Choorhe Ali Zindagi Ch Augi -x2.
Hathan ch Hath Paake Nal Geda Mere Daugi
Ik Meri Sunogi Te Do Mainu Kahugi,
Ho Mere Yaar Mainu Taan
Bada Daraayi Jande Ne
Kende Hun Gal Nu Kabeeldari Paugi.
Ho Mera Lagi Janda Ji Eh Soch Soch Ke
Ghar Aake Mithe Chaul oh Banaugi.
Oh Single To Yar Thoda Double Hoya
Ikk Choorhe Ali Zindagi Ch Aaugi -x2.