Let's discover the meaning of 'Paani Paani Ho Gayi Lyrics,' a Hindi song sung by Aastha Gill, Badshah and written down by songwriter Badshah. The music for PAANI PAANI HO GAYI was composed by Badshah.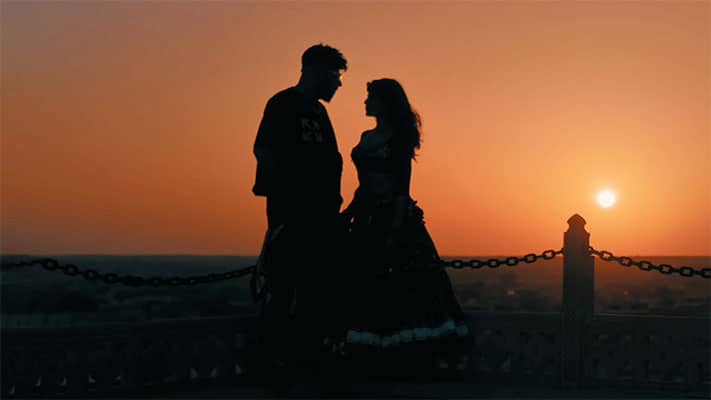 In their latest single, Paini Paani, Aastha Gill once again worked with rapper Badshah. On June 9, the hugely anticipated video was launched. The music was produced, penned and performed by Badshah and Aastha Gill both. The song's lyrics are about a woman's feeling once her lover sees her.
BADSHAH | PAANI PAANI FULL SONG LYRICS ENGLISH MEANING | AASTHA GILL
Usne Mujhe Chua Bhi Nahi, Aisa Waisa Kush Hua Bhi Nahi,
Nazar Thi Paini Hui Bechaini,
Ankhon Ankhon Mein Shaitani Ho Gayi,
He didn't even come close to touching me. Nothing like that ever happened between us.
The eyes were keenly looking, and the heart was restless.
And a mischief-making was carried out through the eyes.
Saiyan Ne Dekha Aise, Main Pani Pani Ho Gayi,
Main Pani Pani Ho Gayi, Main Pani Pani Ho Gayi,
When my beloved looked at me, I felt shy.
I was timid. I became timid.
Chalegi Kya, Glass Pada Hai Khali Bharegi Kya,
Sath Aye Launde Se Daregi Kya,
Andar Ki Feeling Se Ladegi Kya Ae,
Would you like to accompany me? Would you mind filling my glass for me?
Would you be afraid of these guys if they were with me?
Would you go to war with your inner feelings?
Had Ho Gayi, Had Se Age Bhi Badhegi Kya,
9 Acre Mein Farm Farm Pe Ghode,
Ghode Pe Chadhegi Kya,
Enough already. Would you go beyond the point of no return?
I own a 9-acre farm with magnificent horses.
Do you want to ride a horse?
1-2-3 Gadike Bonet Se Nikle Pari,
Launde Age Kahin Tikte Nahi,
Batein Hain Kaidi Meri Likh Le Kahin,
Chal Niklein Kahin, Uh!
One! Two! There! An angel emerges from the trunk of the car.
The guys are here, but they don't all sit in the same spot.
My words are powerful, and you should pay attention to them.
Let's get out there.
Aisi Hoon Khoyi Kabhi Khoyi Hi Nahi,
Ankhein Mili Hai Jab Se Soyi Hi Nahi,
Duniya Se Sune Hai Kisse Tere,
Jane Kya Ayega Hisse Mere,
I'm lost as I've never been before.
I haven't been able to sleep since I made eye contact with you.
I've heard your stories from all over the world.
I'm not sure if I'm going to get you or not.
Isi Khayal Mein Deewani Ho Gayi,
Saiyan Ne Dekha Aise,
Main Pani Pani Ho Gayi, Main Pani Pani,
All of this has turned me into a crazy lover.
I was bashful when my beloved looked at me.
I used to be extremely shy. I became incredibly shy.
Image Kharab Kam Galat Hai,
News Mein Nam Ata Har Week,
Fir Bhi Jahan Se Guzroon, Har Bandi Ke Munh Se Nikle Cheekh,
My image is not good, and I work in a bad line of work.
Every week, my name is in the news.
But no matter where I go, every girl shouts out loud for me.
Hath Pakad Par Dil Na Laga,
Jo Kehti Hai Karke Dikha,
Sunne Mein Aya Hai, Tu Marti Hai Hum Pe,
Marke Dikha Han,
Hold my hand, but don't give me your heart.
Prove to me what you said you could do for me.
I've discovered that you're madly in love with me.
Could you please demonstrate this to me?
Rehne De Munh Bandh Rakh,
Ankhein Jo Kehti Hai Kehne De,
Bahut Ruki Hai Aaj Tu,
Pani Banke Khud Ko Behne De,
Forget about it! Don't say anything.
Allow the eyes to speak for themselves.
You've been holding yourself back for far too long.
Allow yourself to be run over like water.
Aye! It's Yo Boy Badshah.
Nazar Thi Paini Hui Bechaini,
Ankhon Ankhon Mein Shaitani Ho Gayi,
Saiyan Ne Dekha Aise,
The eyes were keen, and the heart was racing.
And we perpetrated mischief through the eyes.
My beloved looked at me.
PAANI PAANI HO GAYI HINDI MUSIC VIDEO | AASTHA GILL | BADSHAH
Read the English translation of the "Main Pani Pani Ho Gayi" Hindi Lyrics. Badshah, Aastha Gill lent voice to the new song. Badshah produced the music, and Badshah wrote the lyrics for the song Paani Paani Ho Gayi.