Lyrics to 'Snake' by 'Karan Aujla' & 'Deep Jandu' AKA 'Oh Ne Sapp Baliye' is a fresh Punjabi song released from Royal Music Gang. Checkout Snake Punjabi song lyrics.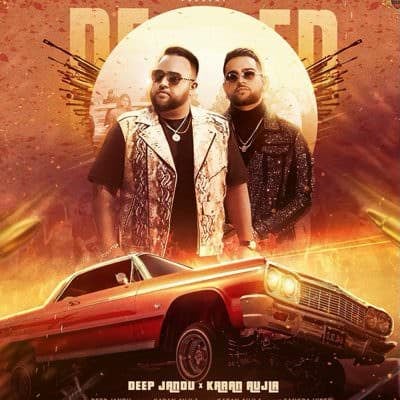 | | |
| --- | --- |
| Song Name | Snake (Punjabi) |
| Artist(s) | Deep Jandu, Karan Aujla |
| Album | Snake – Single |
| Music Composer(s) | Sangra Vibes |
| Lyrics Writer(s) | Karan Aujla |
| Label | Royal Music Gang |
SNAKE FULL SONG LYRICS | AUJLA & JANDU
Intro,
Sada time kahda badleya,
Bande badalde phirde aa,
Sadi rees karni kehnde,
Dhande badalde phirde aa,
Jedi satt oh dil te maar gaye ohda dard thodi
Yaar taan kudiyan badal diyan hundiyan balleya,
Mard thodi.
Circle jina chota howe changa ae,
Jina vi vadhao ona zyada panga ae,
Room wich behke gine daghebaziyan,
Naar ya gadaar da oh yaar danga ae,
O sadeyan siran te kine boss ho gaye,
Yaari piche, yaari piche loss ho gaye,
Ni head up balliye, ni head up balliye.
O jede hunde back te stab karde,
Oh ne sapp balliye,
Sade diggan utte ne clap karde,
Oh ne sapp balliye, oh ne sapp balliye.
Suhhhh!
Oh keda ae question ask karo,
Jede asi karde aan task karo,
O shaklan te jhoothe jede paaye hoye aa,
Paraan oh, paraan oh mask karo,
Lokan mooray kambe na voice dardi,
Chup dekh jattan di noise kardi,
Na paunde khapp baliye,
Naa paunde khapp baliye,
O jehde hundey back te stab kardey,
O nay sapp baliye,
Sadey digan uttey nay clap kardey,
O nay sapp baliye.
Karan Aujla Rap Verse,
Oh duniya te dariyan,
Kahdiyan ne yariyan,
Apne hi khich pichon maarde ne taadiyan,
Paise piche nachdi aa duniya ae name te ji
Allrhan di laggi hoyi aa yaari kehnde sale te
O thamm jo kahaunde saale ret hunde,
Changay din sadey kithon dekh hunde,
Sadiyan tijoriyan nu laun chabiyan,
Yaar naiyo hunde oh snake hunde.
Aujla tan izzat hi gain karda,
Jeda kam kare insane karda,
Oh rabb ne lekhan ch likhi end life ni,
Vairiyan da kalja ae pain karda,
Parma ta tera band book allrhe,
Laghde jo moddeyan ton thuk allrhe,
Ha!Ha!
Main laine napp baliye.
O jede hunde back te stab karde,
Oh ne sapp balliye,
Sade diggan utte ne clap karde,
Oh ne sapp balliye, oh ne sapp balliye.
Outro,
O aithe koi chakkar nai kaun star aa,
Harek de veere sira hi yaar aa,
End te hathan nu hath ne,
Tere kol sau hon ge,
Mere ko' taan atth ne,
Khadna ni katth ne,
Aithe ladayi ch koi fayida ni,
Paindiyan di thod ni, pehlan vi daseya sanu lod ni,
Apna kam karo, swad lao,
Ik life aa yaar, do it big. Work hard.
Don't worry about the haters,
Kyonke, oh ne sapp balliye. Aauh!
SNAKE LYRICS from DEEP JANDU & KARAN AUJLA – The promising Punjabi track has been produced by Parma Music and Sangra Vibes is producer of its satisfying music production. All the Punjabi lyrics are drafted by Karan Aujla with music video for 'Snake' shot by Rupan Bal, Rubbal Gtr & Director Whiz.