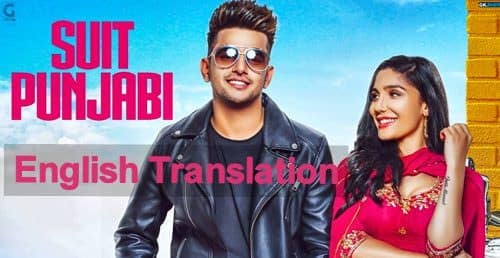 SUIT PUNJABI LYRICS with English Translation – The most entertaining song has been performed by none other than Jass Manak with its verses drafted by Avvy Dhaliwal. Shagur is name of music composer and music video of song is also out now. Get meaning of song verses on this page.
THE SUIT PUNJABI SONG TRANSLATION & LYRICS
O suit aa punjabi jatti payi phirdi
Sara downtown pishe layi phirdi,
The jatti/girl has been hanging around in punjabi suit,
And his being followed by the people of whole downtown.
Raunki subhaa di milay hass khaid kay,
Mai dekhi ni kade vi chuni laayi sir di,
She has a very cheerful nature and meets everybody with pleasure.
I have never seen her with her dupatta/scarf take off from her head.
Shaniwaar nu toronto wich maare gerhiyan
Labdi aa pakke oh tikaane yaar de,
Saturdays she hangout in toronto searching for my permanent address.
O modan utte khad kudi time chak di
Kendi kad de aa jaan rim teri car de.
The girl waits for me around the corner of the raod,
And says that my car has killer rims.
Tera gora gora rang kare kehr goriye
Maarey mundeya de dila uttay fire goriye.
You're fair skin is really slaying,
It hits the boys like a gun shot fired in their chest.
Tere akkhan de ishareya ne dil lutya
Adhe town ch puva te sade vair baliye,
The movement of your eyes have taken my heart,
Half of the town is looking for me now.
Manak nu pattan lyi bhejein offer-an
Eni cheti naiyo kitey jat dil haarde.
You have been sending offers of love for manak,
But not that easily we loose our hearts to anybody.
Oh morhan utte khgad kudi time chakdi
Kehndi kadd de aa jaan rim teri car de,
The girl awaits me at the roadside and says that my car's tire rims are so lit.
Ho avvy dhaliwal nira aa barud jatiye
Munda manak'an da patte na kharood jattiye.
Avvy dhaliwal is very handsome,
And song of manak's don't simply hangaround.
Sonay jeha chakki phiran dil nakhro
Jatt bhawein aa subha da thoda rude jatiye.
I have a golden heart even I have a rude nature.
Oh mitran de dil barhe aukhay jitnay,
Sochi na tu jatt fokkiyan e maarde.
It's not easy to win my heart,
Don't think that I'm simply said saying.
Oh modan uttey khad kudi time chakdi
Kendi kadd de aa jaan rim teri car de.