Suitan Wali Queen Lyrics from trio of rapper Harshit Tomar, vocalist JSL Singh and female rapper Xeena is a latest song. The Punjabi verses are penned by Puneet Pahwa and Enzo produced music of this track. Shabby Singh is video director of "SUITAN WALI QUEEN " track starring artists.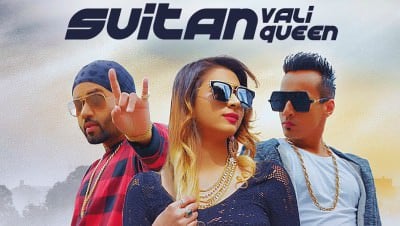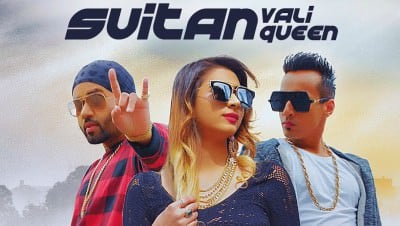 Perfomers: Harshit Tomar, Xeena, JSL
Music Director: Enzo
Songwriter: Puneet Pahwa
Project Co-ordinatior: Akshay Sood
Video Director: Shabby Singh
Label: T-Series
SUITAN WALI QUEEN SONG LYRICS – HARSHIT, JSL & XEENA
Jaan jaan makeup jeya laake moore auni ae
Shote-shote top naal
Uchi jean pauni ae,
Roz roz change kardi ae billo look tu
Nikki ji dress paake
Ki vakhauna chauni ae.
Ethe na ji aao
Kise hor nu vakhao -x2,
Jatt att di pasand rakhdae.
Ethe no chance baby ethe no chance -x2,
Oh munda suit' an wali queen labdae -x2
(Repeat).
Bhai bole seedhi sadahi suit wali chahye
Ho gaal pe dimple
thodi simple cute honi chahiye,
Par apni koi demand nahi hai
Ladki hai koyi brand nahi hai
Jiski shardha waise de jaaye
Fasne ka mera plain nahi hai.
Pyar-vyar ke chakkar se main
rehta koson door hoon
Par ladka hoon main kya karun
Thoda sa majbur hoon,
Tension hai batheri
Mujhe girlfriend nahi chahiye
Ek se kis ka dil bharta
Variety honi chahiye.
Aithe no chance baby, Aithe no chance -x2,
O munda suit-an waali queen labdae -x4.
Xeena,
Gali mein gedi maarta hai
Har ladki ko taadta hai
Par baat agar ho pyaar ki
toh saala pala jhaadta hai.
Par main hoon fiery
beauty no expiry
Aankh khol ke padh le mujhko
Ghalib ki hu shayari,
Love ki lolipop hun aisi
Lattu tu hojayega
Aaj suit pe atka hai
Kal dress leke ayega.
Dil se hu bholi bhali
Mujhko karle tu touch
Umar jab meri jab chalees hogi
lagungi phir bhi twenty one.
Ethe no chance baby ethe no chance -x2,
Oh munda suitan wali queen labdae -x4.
Jatt poora att
na ghatt kisi kolo
Tere jehiyan 36 kardiyan follow
Vaise taan pyaar den nu ready hazar
Par apni oh naar jehdi kardi hai s*.
Ethhe na j ao kise hor nu vakhao -x2,
Jatt att di passand rakhda ae
Ethe no chance baby Aithe no chance -x2,
O munda suitan wali queen labda -x4.