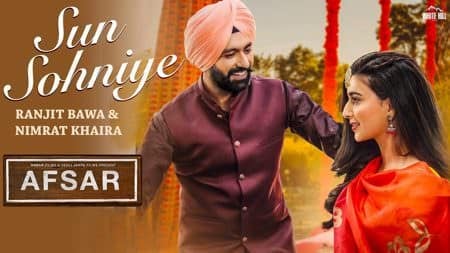 Sun Sohniye Lyrics – It is first song released from Afsar Punjabi film. Tarsem Jassar and Nimrat Khaira are featured in music video of song. Talented artist Nimrat also has lent her voice for song alongside skilled vocalist Ranjit Bawa. Arjan Dhillon is songwriter and the music composition is from Jaidev Kumar.
SUN SOHNIYE SONG LYRICS
Sun soniye ni taar tunke
Dhan-dhan ho gaye teri haan sunke
Sun soneya ve wang kehndi,
Meri taliyan te laggu
Tere naa' di mehndi…
Sun sohniye jagde ne taare
Mainu soohay soohay lagi jande rang saarey.
Sun soneya ve tikka bolay
Nerhe-nerhe saadey reh saada dil dolay.
Sun sohniye preetan  goodiyan
Jo mangiyan muradaan sab hoiyan puriyan
Sun soneya lekhan de khel ve
Rabb sache daadhe ne karaate mel ve.
Mainu suhe-suhe laggi jande rang sare
Nede nede sade reh sada dil dolle.
| | |
| --- | --- |
| Album: | Sun Sohniye (Afsar) |
| Music Composer: | Jaidev Kumar |
| Lyrics Writer: | Arjan Dhillon |
| Label: | White Hill Music |
| Actors: | Nimrat Khaira, Tarsem Jassa |
Find out more Punjabi Songs like 'Sun Sohniye' from Duet, Nimrat Khaira, Ranjit Bawa, Tarsem Jassar.