Translation to 'Super Cute Lyrics' from the Bheeshma Telugu movie with Nakash Aziz stanzas. Learn the English meaning of Nithiin & Rashmika Mandanna starring Super Cute Telugu song lyrics.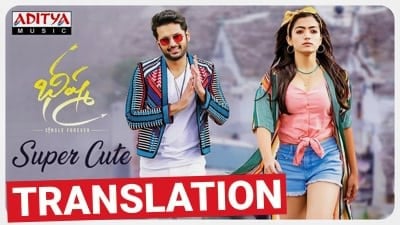 BHEESHMA | SUPER CUTE TELUGU SONG LYRICS ENGLISH MEANING
O Nee Navvemo Super Cute
Nee White Chunni Super Cute
O Look Thoti Penchave Naalo Heartbeat
Your smile is super cute.
Your white stole is super cute.
You've made my heart race with a glance.
Nee Nadakentho Super Cute
Nee Outlook Ye Super Cute
Naa Kallake Nuvvu Miss World Kanna Opthete
Your walk is super cute.
Your outlook is super cute.
You're better than Miss World in my eyes.
Tsunami Laaga Pilla Andhale
Ila Allesthe Yella Naa Dillu Fatte
Oorachupu Ala Padesthe Ala Padunta Nila Nee Kaali Vente
Your elegance can cause a catastrophe.
My heart will explode if you surround me.
Keep me hooked with a gaze and I'm yours.
Nuvvu Oppukunte Pillaa Nuvvu Neenila Lavvadesi Naa Life Set
Aa Kassu Mante Ela Kopamlo Kuda Anthandhente
Say yes and here begins The journey of our love.
How can you look so pretty When you're mad at me?
Naa Maate Vinavente
Manaa Jante Super Cute
Why don't you listen to me?
Our couple is super cute.
Nee Kosam Entha Chesina Naa Life Raasi Ichina
Kasthaina Kanikarinchave O Pisinaari
Nuvventho Vethiki Chusina Lokale Jalledesina
Naa Lanti Vaade Dorakade O Sukumari
No matter what I do for you, even if I sacrifice my life.
Why don't you show some mercy?
You can search all over the world.
You can wander all over the universe.
But you can't find a guy like me, darling.
Neethhoo Unde Felling Super Naatho Konchem Playing Apeyave
Naughty Beauty Torture Pettake Ila Mana Futureni Set Cheyve
This feeling of being With you is super cute.
Stop playing around with me.
Don't torture me, you naughty beauty.
Our future lies in your hands.
Naa Maate Vinavente, Manaa Jante Super Cute
Why don't you listen to me? Our couple is super cute.

SUPER CUTE MUSIC VIDEO FROM BHEESHMA MOVIE